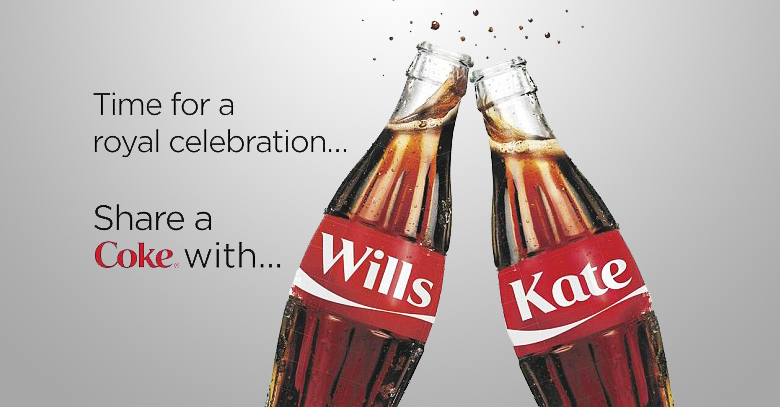 As the Duke and Duchess of Cambridge rejoiced the arrival of their baby boy into the world on Monday, an avalanche of companies with their marketing gladiators surged upon the advertising fascia with cute messages, congratulating the royal duo in all sorts of ways.
These days every global event can be materialized into corporate marketing, but hijacking the royal innocence seems one step too much in futile advertisement. Nevertheless, involvement of brands like Coca Cola, Oreo, Pampers, Johnson & Johnson's, Magnum and Starbucks legitimized all the advertisement campaigns.
Slipstreaming in this case might not be a sin, but is certainly sad.
The world certainly has seen advertisement campaigns, more ethically compromised and senseless than the Royal campaigns.
Who can forget the WWF advertisement campaign showing numerous passenger planes heading towards New York City; with a tag-line "TSUNAMI KILLED 100 TIMES MORE PEOPLE THAN 9/11".
Over the years, not a single emotion – desire, fear or lust – has escaped the claws of advertisers.
Everything moral is twisted into innovative campaigns for people to remember and everything else (the immoral) is made controversial, gets noticed, becomes famous and hence, again gets engraved in people's minds.
When one adds all this up, the question arises, where is advertising headed?
David Oglivy, forefather of Advertising wrote in the opening sentences of his book, "I do not regard advertising as a form of entertainment, rather a medium of information". 
The statement does not seem to be valid today, some would argue. Gone are the days when Consumers used to buy products whose advertisements promised them value for money, beauty, nutrition, relief from suffering, social status or so on.
Increasing cynicism in human behavior has pushed advertisers to find refuge in entertainment rather advertisement. Ideas or executions that entertain people, builds liking in general public eventually sells.
Art forms around the globe seem to have either lost their essence or confused consistently with something else. David Copperfield and Merlin's art of magic is carried out by Chris Angel, Led Zeppelin is succeeded by Rihanna andJustin Bieber and William Shakespeare's theatres are transcended into commercial Hollywood movies and in some extension, Bollywood.
Hence, Advertising is carried out by exploiting a royal baby and thus the irony persists.