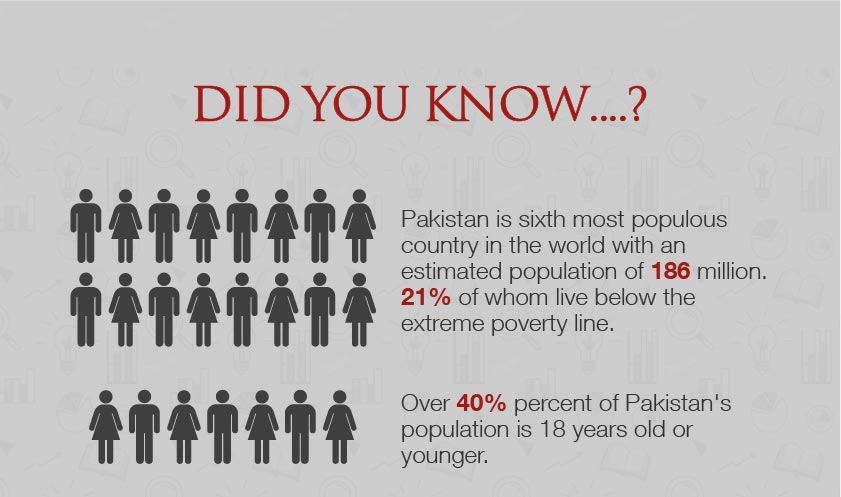 Pakistan is sixth most populous country in the world with an estimated population of 185 million in 2012-2013, 21% of whom live below the extreme poverty line on less than US $1.25/day.
The country's annual average per-capita income remains low at US $1,260/year. Pakistan continues to struggle with high rates of infant, child and maternal mortality, low levels of literacy, as well as with growing insecurity, particularly along the country's porous border with Afghanistan.
The country is also prone to natural disasters such as flooding, drought and earthquakes.
Over 40% percent of Pakistan's population is 18 years old or younger. Pakistan's public education system is inadequate and is not meeting the needs of many children, nor is it adequately preparing young Pakistani men and women for employment. Pakistan has the second highest number of out-of-school children in the world: an estimated 5.4 million primary school-age children are out of school[4].
Pakistan ranks 146 out of 186 countries on the United Nations Development Programme's 2013 Human Development Index. With some of the lowest development indicators in South Asia, its national development objectives are in jeopardy.
The country faces complex development challenges that are characterized by major inequalities in income and access to basic services. A high proportion of Pakistanis live in slums and the country is facing rapid, sustained slum growth rates.
A significant proportion of Pakistan's population lacks access to basic infrastructure; 30% of the population has access to safe drinking water and only 45% to improved sanitation. This situation becomes bleaker when we consider those people who have been marginalized because of their gender, disability or old age.
The economic crises of recent years along with increased domestic instability, have contributed to a growing budget deficit, inflation and a rise in poverty.
Set against this background is the importance of the role being performed by NGOs in Pakistan. To date, more than 150,000 NGOs have been registered in Pakistan out of which 45,000 are active and operational. These vary from international NGOs to community-based organizations in the rural areas of Pakistan. At the moment, there are 41 international NGOs in Pakistan, including 11 UN affiliated organizations.
The official number of people engaged in the NGO sector in Pakistan amounts to 264,000 employed and 212,000 volunteers. Of these numbers 70% are employed by the Education sector whereas religious organizations that account for only 5% of the NGO sector engage almost 33% of the volunteer force in the country.
The rights based organizations engage second highest number if volunteers in Pakistan. The table below reflects at the spread of the non-profit/non-governmental organizations in the country.
On average, a non-profit/non-governmental organization meets half of its annual expenses from the fee charged to the beneficiaries on subsidized rates. More than one-third of the expenses are met with financial assistance of the private donors in Pakistan. Donations from the Pakistani Diaspora pay for the 7% and the public sector 6% of the remaining annual expenses.
References:
"About Pakistan." UNDP in Pakistan.N.p.,n.d. Web. 21 July 2014. <http://www.pk.undp.org/content/pakistan/en/home/countryinfo/>.
"Pakistan." The World Bank.N.p.,n.d. Web. 19 July 2014. <http://data.worldbank.org/country/pakistan>.
"Statistics." UNICEF. N.p., n.d. Web. 21 July 2014. <http://www.unicef.org/infobycountry/pakistan_pakistan_statistics.html>.
"Out-of-school Children ." Out-of-school Children. N.p., n.d. Web. 21 July 2014. <http://www.uis.unesco.org/Education/Pages/out-of-school-children.aspx>.
"Country Profile – Pakistan." |UNDP Human Development Report.N.p.,n.d. Web. 21 July 2014. <http://hdr.undp.org/en/countries/profiles/PAK>.