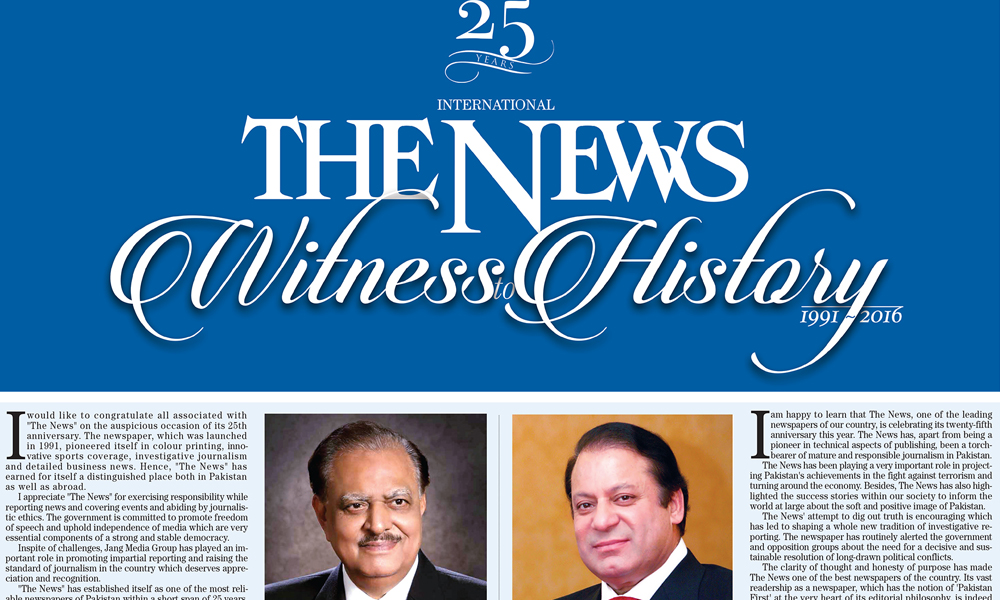 The NEWS International marked the silver jubilee of its nationwide daily publication on March 25, 2016. It celebrated with some sense of gratification and achievement. The retrospection orchestrated by Jang Media Group in the form of an extensive 112-page special supplement to take the account of progress made along with a note of milestones that are yet to be achieved.
The next introspective analysis may be taken up in 2040-41, the golden jubilee year of 'The News'.
It is believed that a society is known by the newspaper and journal it publishes. The News enjoys the rank of the top class high-tech English newspapers in Pakistan with quality editorial contents benchmark equivalent to that of 'The Financial Times' and 'The Independent'.
During these cold and hot years, The News has seen a technological change and now along with its 'hard' print form it also has 'soft' online version. Furthermore, twenty-five year is a period long enough for an overview. So, let's wish Happy Silver Jubilee 'The News'!
Silver Jubilee was a journey down the memory lane and back in the form of an overview of twenty-five years of 'The News International'. The task would have been impossible without referring to 'The News' archives and online issues. As it's an overview, omissions if any might be unintentional.
'The News' has come a long way and has achieved a respectable and authentic status. Let us hope 'The News' will continue to contribute its best and make the Golden Jubilee year even more satisfying for the editors as well as the readers.