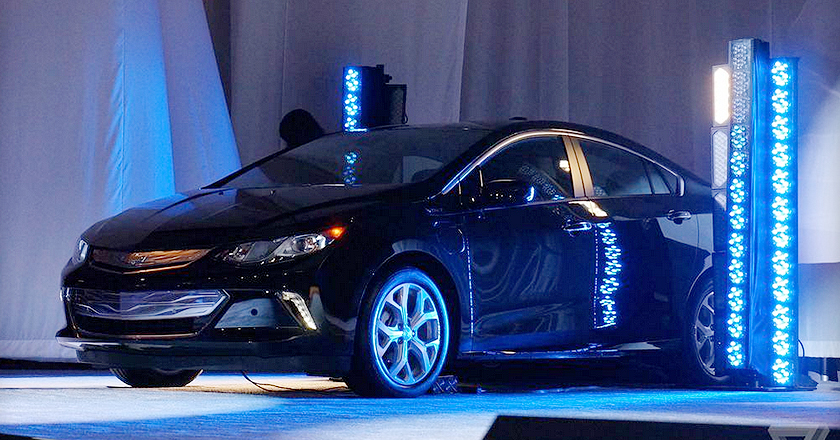 Launch of Chevrolet's next-generation "Volt" will take place at Detroit's North American International Auto Show this coming week. A sneak peak of the upcoming car took place at a CES (Consumer Electronics Show) in Las Vegas.
This redesigned, innovative version of the Volt is a huge deal for General Motors. The Volt was displayed on stage for a mere 30 seconds before it was veiled off again.
The new version of the car features an aggressive, angular fascia. The fascia has been redesigned, however other than that not a lot of details have been disclosed. The Volt will also feature a new 1.5 liter fuel engine and will not require premium fuel.
The excitement about the new automobile is shared by its makers as much as its fans, as the Chevrolet-makers have even tweeted an image of the upcoming model.
We're so excited about #NextGenVolt we brought it out early at #CES2015! Full details on 1/12 at #NAIAS. pic.twitter.com/hPCbTFGSV4

— Chevrolet Volt (@ChevyVolt) January 5, 2015
For those who don't know, the Chevrolet Volt is a plug-in hybrid vehicle and its sales actually began in 2011. It has won a lot of acclaim and awards for being a green car which is environmentally-friendly.
It has been accredited as being a fuel-efficient vehicle which is sold to consumer s at reasonable costs.
This is not a mass-market car, and it's marketing and branding has been targeted to certain target groups by the makers. According to the CMO of Chevrolet, Tim Mahoney, "It's an impressive product in its design, performance and technology. It's a real halo for the brand. It's done a tremendous amount to conquer new buyers, and they have [high] incomes like Corvette buyers. Customer satisfaction is through the roof. But the reality is that there's a finite market for Volt, and it's geographical." He further added that this epicenter for the car's sales lies in California.