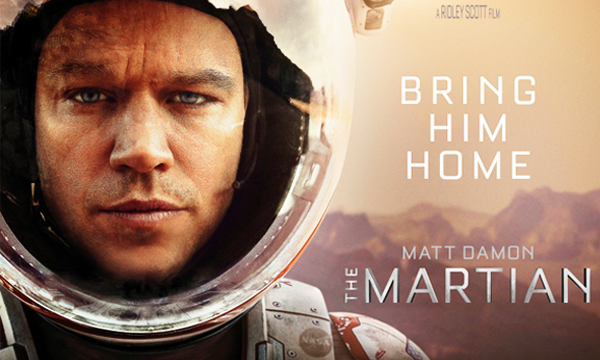 The Martian, the sci-fi venture of director Ridley Scott featuring Matt Damon is being deemed as a must-watch for all space and science fiction fans even if you have not watched Interstellar. Based on Andy Weir's novel from 2011 with the same name, The Martian was released on 2nd October 2015.
Additionally, the movie stars Jessica Chastain, Kristen Wiig, Jeff Daniels, Michael Peña, Kate Mara, Sean Bean, Sebastian Stan, Aksel Hennie, and Chiwetel Ejiofor. Twentieth Century Fox.
Take a look at the trailer:
[fb_embed_post href="https://www.facebook.com/MartianMovie/videos/vb.754778727942843/885895538164494/?type=2&theater/" width="550″/]
According to The Variety, the movie is reigning the box office for the second week. "Ridley Scott's sci-fi Mars adventure, starring Matt Damon, is so consistent in its storytelling and coherent in its details that it breezes gloriously past some of its biggest and best questions," reviews the New Yorker.
In hype of the movie, NASA has conducted a research which compares the Journey to Mars between the movie and how it happened in real life. Take a look at NASA's tweet:
See some of our Mars Moments & how #TheMartian movie compares to our real #JourneyToMars: https://t.co/INhSFzy3ed pic.twitter.com/l8SpM8pld0

— NASA (@NASA) October 7, 2015
Take a look at the Twitter responses of the movie which is being considered as the must-watch movie of the year:
Just saw The Martian. If Matt Damon was alone on Mars, who was filming him that whole time? Clearly fake — Sage Boggs (@sageboggs) October 11, 2015
Just saw The Martian… Amazing!

— Ryan Fletcher (@LawsonRyan) October 11, 2015
BOX OFFICE: "The Martian" will be #1 again this weekend with around $37m! STRONG hold!! Great movie!! pic.twitter.com/g1FcKaaSVq — Scott Mantz (@MovieMantz) October 10, 2015
Just saw The Martian. Good movie. Did anyone else notice there was a guy who looks like Snape working for NASA's Mission Control?

— Richelle Mead (@RichelleMead) October 9, 2015
2nd time seeing the The Martian…..still FANTASTIC. My favorite space movie thus far for sure 🙂 — Max Gonzalez (@GassyMexican) October 12, 2015
The Martian is surely a treat for the sci-fi genre lovers. Loved @mattdamon_ in it. #TheMartianMovie

— Locobot (@MariaShafiq) October 12, 2015
I'm pretty skeptical about Matt Damon in The Martian. If Interstellar has taught me anything, it's that he can NOT be trusted. — Akshar (@AksharPathak) October 2, 2015
Intereseting how NASA makes the announcement the same week that Matt Damon's The Martian comes out.

— Akshar (@AksharPathak) September 28, 2015
The Martian was excellent by the way. Adapted the book really well and stands on it's own as one of the best Scifi films in a long while.

— AntspoopyWorldstella (@Antwhan) October 12, 2015
#TheMartian also feel like everything presented in this movie would be pretty close to what NASA would look like in maybe 20 years from now

— Chris Cookson (@coldmilk) October 12, 2015
With an 8.3/10 rating on IMDb by 79311 users, and gross earnings of $227.7 million globally as yet, the movie is not worth missing.