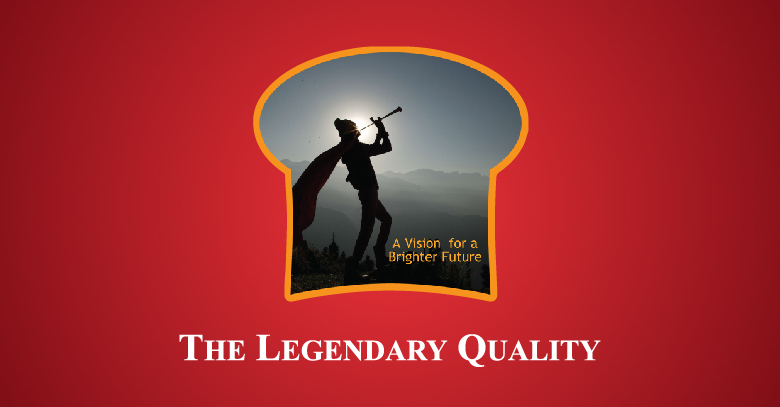 Synergyzer sits down with EBM ' s brand whiz Mr. Shakeel Akram, Marketing Manager, and Mr. Zahid Iqbal, Group Brand Manager, to talk about their recent forays into the premium biscuit market with the launch of Peek Freans Farm House Cookies.
Innovation: The key to Brand success
Innovation by definition is the successful exploitation of new ideas. Incorporating new technology, taste, design and best practices is the key that enables any business to compete effectively in the industry. The challenge for companies is to bring to the market a stream of new and improved value-added products and services that enable the business to achieve higher margins and thus profits to re-invest in the business. This can be done solely through consistent innovation.
Like all others, the biscuit industry is just as sensitive to innovation and change. EBM being the largest biscuit manufacturers in Pakistan has for over 45 years been playing its leading role in research and development and as a role model subsequently led the way in product and production innovations in the country for other to follow and emulate. True to its tag-line of "The Legend Leads" the company has many industry "firsts" to its credit. The marketing team at EBM is working diligently towards keeping up with this tradition.
EBM today enjoys the enviable position of market leadership in the biscuit industry. EBM's corporate philosophy and values have been the guiding principles on which the foundations of the business are based. "Belief in leadership, entrepreneurship and innovation" as part of a corporate ethos is one such value.
Ever since its inception EBM has believed in being creative and introducing fresh and superior products into the market. Products like Marvell, Rio (two-creams), Sooper, Peanut Pik, Whole Wheat Slices to name a few are testimony to EBM's commitment and resolve towards innovation in products and technologies.
The recent launch of Peek Freans Farm House Cookies is yet another innovative initiative by the marketing team at EBM in segmenting the market and offering the local consumers with a product that is at par (if not better) than any other international brand on all aspects be it taste, quality or other attributes.
Conquering challenges and creating opportunities
When asked about what challenges EBM is facing, Mr. Akram said "Escalating input costs in the form of raw materials prices pose the biggest challenge that are shrinking our margins exponentially. So, surviving in this sort of atmosphere requires an in-depth understanding of the micro and macro economic dynamics of the country. We firmly believe that in a competitive environment, opportunities exist. Even if they don't, a strategic mind creates them through creative thinking".
According to Mr. Iqbal, "In the context of the local biscuit market it is unfortunate that all types of biscuits whether plain or value added such as sandwich creams or nuts sell at more or less the same price points. That's wrong because every different product demands and commands different pricing strategy. We decided that establishing a premium price segment should be our main objective and we arrived at this decision after careful analysis of our challenges and objectives. Through this method, we have successfully established a new price point for Peek Freans, and moved away from the conventional Rs. 10-20 price points".
Mr. Iqbal says, "We focused on the spending patterns of the target market particularly on biscuits. We realized that the ideal target market is niche and generally prefers imported biscuit brands. Our opportunity clearly lay in somehow capturing this market by giving them something that the imported products were not giving…comparable quality and taste at an affordable price for those set of affluent consumers".
EBM thoroughly researched the imported biscuits market and identified the following problems:
– Imported biscuits are usually not fresh and what's worse is that most of the times, they are being sold close to expiry dates. Local retailers usually put these products on sale when the expiry dates are close which is extremely harmful for customers
– The supply of these products is extremely sporadic; certain retail outlets might have the product while others won't, while sometimes the product might not be available for long periods.
Peek Freans Farm House Cookies: Creating Marketing Ripples
As EBM spent time on trying to create the perfect personality for Farm House Cookies, EBM's brand team decided to position it simply on its best features; taste and freshness. "We literally wanted to take its name and all its associating connotations of farm freshness and incorporate the image in the mind of consumers" said Mr. Akram. EBM has met and superseded all their internal and external objectives that they set for Farm House Cookies.
To really understand the marketing success that Farm House Cookies has been through, we'll see in detail how each element of the Marketing Mix has been utilized to establish a strong positioning:-
1. Product: Innovative flavors and premium quality
Farm House Cookies were actually launched 18 years ago, but it had a completely different personality and image. Mr. Iqbal says, "A lot of brand equity was garnered in those long gone years and we felt that the right move would be to capitalize on that equity with an entirely new marketing mix. The only thing that has remained unchanged is the name of the product itself. The biscuits are 'new', not improved; the price has changed, the distribution strategy has changed; the promotion is new as is the brand's positioning".
2. Price: A pricing strategy for the premium segment
Farm House Cookies established a new segment entirely, the premium segment. Mr. Akram claims that "This new segment creation will help the biscuit industry grow as a whole. It's extending the playing field even more".
Mr. Akram was quick to explain that "Price segmentation, only works when it is linked with consumer needs & unique selling propositions in terms of product innovations. Premium pricing strategy must be backed by product differentiation hence it was necessary to offer products to the consumers for which they would be willing to pay price premiums. In order to enter this segment and charge price premiums it was necessary to subsequently develop and introduce a gourmet range that best addressed the consumer's need of premiumness, variety & innovation and would be considered at par with any of the imported alternatives available in terms of its quality and overall product offering ranging from packaging, product, pricing to promotion".
The target market is the upper class, affluent and English speaking, they are exposed to international biscuit brands.  "It is this premium segment who allows us to price the product higher."
It is important to evaluate pricing relative to other products. Farm House Cookies are gourmet cookies that are bigger and thicker in size compared to other biscuits, richer in terms of ingredients, have the best and most expensive imported ingredients and at par (if not better) in taste than any imported brands available in the market. Similar imported brands in the market containing 9 biscuits are currently retailing at nothing less than Rs 170/-. For the middle tier consumers who generally consume regular biscuits and not imported ones, the pricing is premium though.
3. Promotion: Breaking the clutter 
The promotional strategy for Farm House Cookies, its competitive framework, brand point of reference, etc. were all inspired by imported products. As EBM wanted to take a different route with the entire marketing campaign, they decided to keep a no frills TVC that played on selected channels. However, they kept the airing minimal and spent the budget using medium which the target market is exposed to, after studying their lifestyle. Mr. Iqbal gave us an insight into the thought process of the premium segment "These people don't like being pushed, pushed, and pushed into buying something. They want to make the decision based on authentic justification themselves". Another psychological effect was that they only used English in the TVC which instantly associates Farm House Cookies as being something of premium quality.
Mr. Iqbal tells us, "Even our communication strategy was targeted towards the educated lot. Traditionally biscuit brands focus on TVCs a lot with absolutely no focus on the print medium. We felt that we needed to reach out to our target market through print as well because they are educated and they read".
Moreover, Farm House Cookies billboards were the talk of the town with the barn shaped attraction that broke through clutter.
However, the star attraction in the entire campaign was Farmhouse's BTL activities. Trial Generation/sampling was a big part of their campaign. It was another first by EBM; to have the biggest trial generation campaign in the Pakistani biscuit industry. The entire campaign was thematic as well. "We continued to expand upon the imagery of Scottish Farms to re-emphasize the fact that the main ingredients in each flavor of the cookies are imported. We showed all of this through the outlook of the brand ambassadors, the farm setup in the decoration, etc."
EBM's PR also played a tremendous role in helping them forward their purpose. They did sampling for which they made especially designed wooden crate boxes that had the product inside to reaffirm the message of farm freshness. Mr. Iqbal said, "We strongly believe in WOM. Media came along late March, during the Cricket World Cup. But by that time we were already getting rave reviews because we had strategically been sampling our product at various targeted locations such as Bombay Dreams premiere, Park Towers, Forum, etc."
4. Place/Distribution: Reaffirming the premium feel
Another important tactic was keeping a strict control on the distribution channel. EBM started with only 8 metropolitan cities but has now spread out to 15 towns as well. In these initial 8 cities, they didn't just place the biscuits at any retailer's outlet. Instead they focused on the KROs, MTOs and A+ outlets only. Mr. Akram proudly tells us that "instead of pushing our product on to the retailer, we focused on creating demand for the product first. The retailers that we didn't reach out to initially are now contacting us to stock the products."
EBM's future: Reaching even greater heights
"We're always thinking about innovation," said Mr. Iqbal, "We have to live up to our reputation. We feel that in the last few years, our brand image has been strengthened by the right marketing moves and decisions. We've evolved as even more of a market leader. Perception, equity parameters, etc. are all working for us."
EBM is coming up with a lot of innovative products. It is establishing new segments and expanding the existing ones. New products will be introduced for all segments, not just the premium segment. Each benchmark they set surpasses the last one and goes higher and higher.