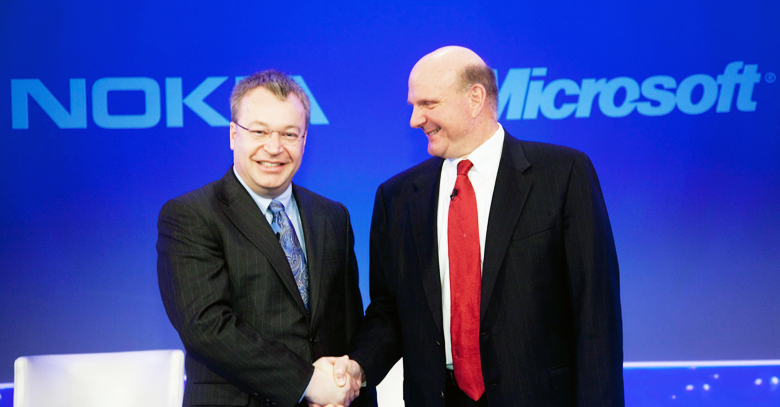 A lot has already been said, speculated and written on the Microsoft's acquisition over Nokia. This indeed is going to be a commendable journey in Microsoft's history, but before we can look ahead we need to first look behind. At the history of two companies who laid the foundations of two of the most successful industries.
Nokia
Timeline
Microsoft
Nokia's history starts in 1865 when an engineer by the name of Fredrick Idestam established a pulp-mill and started manufacturing paper. In 1871, Idestam took the help of his old friend Leo Mechelin, to reform, reshape and establish the company that would be known in history by the name of Nokia, which was then only a paper manufacturing mill.
1865
When Nokia was formed in 1865, Americans were witnessing the end of a blood-stained Civil War. America was going through a historic phase of reconstruction, the country did not have anything let alone a multibillion dollar empire named Microsoft.
By the end of 19th century, Idestam retired from his post and Michelin emerged as the company's new chairman. His vision was to diversify Nokia into electricity generation.
1898
At the turn of the century America had established itself as an eminent force. This era was known in American history as the progressive era, although still no sign of Microsoft.
Nokia established divisions for telephone, telegraph and electrical cables. This acted as basis for modern Nokia, as we know it.
1912
The progressive Era came to a hault with the Great Depression of 1929.
Nokia Develops VHF Radio and founded the cornerstone of telecommunication
1963
After the Great Depression, America was witnessing the liberation in 1950s. With as much as six million getting jobs in all segments of life, the era was known as post war boom.
The current avatar of Nokia was planted with the founding of the electronics section of the cable division earlier and the production of its first electronic device: a pulse analyzer designed for use in nuclear power plants.
1967
Nokia became more involved in Telecommunication by developing DX 200, the first digital switch for telephone exchanges.
1971
Nokia had mastered mobile radio telephony, the predecessor of modern cellular technology. Since then Nokia has been making radios for military.
1974
Nokia, with the help of its past experiences with Radios, started making Radio phones for cars calling them car radio phones.
1975
After the Deregulation, in 1975 America saw the first glimpse of Microsoft, when two computer engineers Bill Gates and Paul Allen founded 'Micro-soft'. The name was chosen by Paul Allen.
In 1979 the merger of Nokia and Salora resulted in the establishment of Mobira OY. Nokia started had created world's first fully automatic cellular phone system. The first generation of mobile phones went online in 1981.
1981
 Microsoft stepped in the operating system Industry in 1980 and one year later IBM launched their Personal Computer with a version Microsoft's OS, MS-DOS. The step acted as the foundation for Microsoft's journey in operating system and computer developments.
Nokia bought Salora and launched first portable mobile phone, naming it Talkman. It weighed 5 Kilograms. Three years later the model was revised as a handheld device, naming it Cityman 900. Cityman was available at a price of around €4,560 weighing a subtle 800 grams.
1985
With the release of Microsoft Mouse in 1983, Microsoft diversified its business. This also acted as the corner stone for Microsoft's first version of Windows in 1985.
Nokia hence became one of the key developers in GSM (Global System for Mobile communication) the cornerstone of modern cellular trafficking.
1987
The world's first commercial GSM called was made on 1st July, 1991 in Finland over a NOKIA supplied network. The call was made by the Finnish Prime Minister, on the first Nokia GSM phone ever made.
1991
By 1990, Microsoft had established its name in the personal computer operating system. In the same year the company also launched its first office suit, Microsoft Office.
One year later, Nokia 1101 was launched, the first phone capable of making calls and sending messages. The number 1101 represented the date of its launch i-e 10th November.
1992
It was the launch of Microsoft's Windows 3.0 that acted as the decisive leap into the future. With a streamlined user interface and improved protected mode capability, the OS decided the fate of the company.
The world saw an undying fanaticism of mobile phones, as they covered the journey from a technological advancement to one of the basic necessities of our race.
1995
On August 4th, 1995, Microsoft launched Windows 95, featuring a preemptive multi-tasking, an entire new interface, advanced user friendliness and a novel start button Windows 95. Equipped with an Internet Explorer, Online MSN and OEM, windows 95 became the bench mark for computing operations ever since. The OPS sold over 4 million copies in less than 4 days of its release.
Nokia led the way successfully with some of the most famous cell phones of the world.
2000
In 2000, Microsoft launched Messenger and the company was rated amongst the leading corporations of the world. What was even more important was its penetration into every house on the planet as Microsoft was selling a product everyone with electricity and literacy was using.
Fast forwarding into the recent past, Symbian was Nokia's main operating system (OS).
2001
Steve Ballmer was made the CEO of the company, an old time batch mate of Bill Gates and an employee of the company for more than 20 years.
Nokia also acquired Sega in 2003, launching a gaming phone series, under the umbrella of 'N-GAGE'. In 2004, Nokia launched 7710, the first touchscreen mobile phone of the company.
2004
Microsoft launched Xbox entering the game console market, previously dominated by Sony and Nintendo.
After this Touchscreen phones transcended into Smartphone technology – an evolutionary phase Nokia seemed unprepared for.
2009
In 2008, Bill Gates retired as the Chief Software Architect, and reduced his role as the official advisor for his company. Bill Gates was named the wealthiest man on the planet from 1995 to 2009, with the exception of one year 2008, when he was ranked third.
Nokia launches C6, C7 and E7. Launching Keyboard phones, the company experimented with seemingly all array of phones, be in variety or price.
2010
By 2009, Microsoft had created an Integrated Ecosystem of its product portfolio, diversifying its business into different fields. Lunching windows 7 and Bing, Microsoft followed up on the advanced interface promoting experience above everything else.As the Smartphone Industry saw an astonishing boom in 2007, Microsoft failed to keep up with this technology. Apple and Google emerged as the prime Smartphone OS providers, reducing Microsoft's Windows Mobile to the relic of the past.
In 2011, Nokia unveiled a strategic alliance with Microsoft, replacing Symbian and adopting Microsoft OS for the upcoming Smartphone series naming it, LUMIA.
2011
In 2010 Microsoft revamped its flagship Windows Phone OS and partnered with Nokia to get a stronger footing in the Smartphone Industry. Same year KINECT for Xbox was also launched that acted as the key feature for Xbox against its rival PS4.Microsoft's partnership with Nokia in Smartphone operations helped Nokia sustain the market share which it was losing at fast pace to Apple and Samsung.

Microsoft also licensed their OS for willing Smartphone vendors like HTC who launched their version of Windows phone. However the biggest share, around 80%, of Winnows OS remained with Nokia.

Nokia strived to keep head above water with Apple and Google dominating the market. Although some progress was seen, but the market progressed faster in being more competitive.
2012
In 2012, Microsoft launched its most user-friendly and popular OS Windows 8 via Nokia Lumia series. One year later, on September 3, 2013 Microsoft acquired Nokia.
Post-2013 – Microsoft's Nokia
As the journey now starts for the two companies, it is uncanny to retrospect upon the two histories when one realizes that the company that acquired Nokia was formed a century after.
Nokia's descending business in terms of both sales and market share was not concealed from anyone, the company had found the right foot with its latest LUMIA line but the venture is still new. In the light of these realities, some believe Microsoft's acquisition of a drawing flagship, was not the wisest decision the company made.
However, academics also believe that Microsoft did not have many options left when it comes to acquiring Nokia. OKE OKARA, Bloomberg says, "If they hadn't someone else would have."
Nokia accounts for more than 80% share on Microsoft Phones, however, the total market for Windows Phones remain small at 3.7%, but the market is rising. If Steve Ballmer had to come through on its vision, he had to acquire Nokia.
From a marketing perspective, Microsoft hasn't really formed that Integrated Platform around Windows 8 that the company proclaims for so long. Microsoft talks about Windows 8 on tablets, phones, and PCs but from a developer's standpoint it is just not true. If a developer wants to create the same app on Windows Phone as on Windows 8, the entire code has to be written virtually all over again. It is not the case with Apple.
Hopefully, as a result of this acquisition, Microsoft can not only deliver on its promise of an integrated Platform but also get in a more direct competition with archrival, Apple. Microsoft now officially owns the hardware alongside its OS for Smartphones, just like Apple.