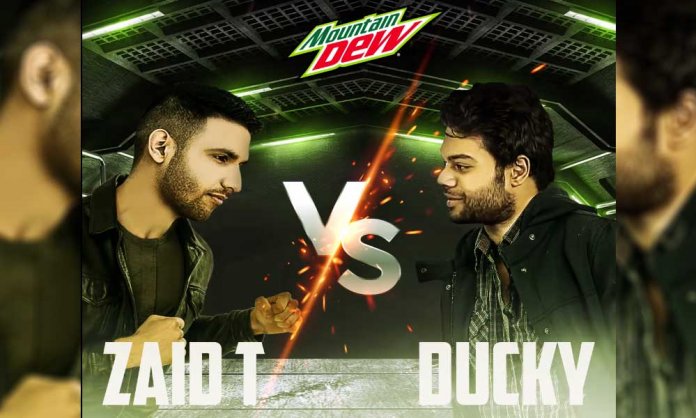 We often witness YouTubers taking a dig at one another or calling each other out creating social media engagement.
Let's be honest, its pure entertainment to watch them go against one another.
Mountain Dew has found a way to put an end to all the ruckus once and for all!
The brand invited 2 of Pakistan's biggest YouTubers to battle it out at the Gamers Arena!
This time around, Mountain Dew has taken an exciting approach – the hilarious Ducky Bhai will take on the beloved Zaid Ali T in a one-of-a-kind PUBG match.
Been in the game longer than you bro, @duckybhai. Beth jaa aur kuch seekh le. Aur ab tu #GameUtha https://t.co/zyxedV4s1v via @YouTube

— Zaid Ali (@Za1d) June 24, 2019
Karlena Aata nahi hai aur Gaming Channel Banaya hua hai .. lol @Za1d #GameUtha

I Hate Zaid Ali In PUBG Mobile 😡 !!! https://t.co/KYyR8cDc6b via @YouTube

— Saad Ur Rehman (@duckybhai) June 23, 2019
Instead of fueling their differences and engaging them in endless clashes, the brand has provided an opportunity for the content creators to settle things in a fun, entertaining and more effective manner.
Previously, the gaming arena had been introduced as a platform for the talented gamers of Pakistan to make a name for themselves and receive recognition both nationally and internationally.
Now, the same platform will be used to put an end to endless debates, pointless fights, and loose ends.
The initiative caught the attention of another leading brand! None other than… Samsung Pakistan!
Hey @DewPK Exciting stuff! Let the ultimate showdown happen on the ultimate gaming phone #GalaxyA50 #BeAGalaxyChampion

— Samsung Pakistan (@Samsung_Pak) June 28, 2019
The Ultimate Showdown
The ultimate showdown between Ducky Bhai and Zaid will take place on 30th June at Packages Mall Lahore!
See you guys at Packages mall on 30th June, 2019 at 8 pm. Calling my fans to cheer me up while I beat Zaid at PubG. Show your support by voting for me on the poll below. # AreYouGame https://t.co/HMEL7zNX4U

— Saad Ur Rehman (@duckybhai) June 28, 2019
Are you ready Dewdz? We are!