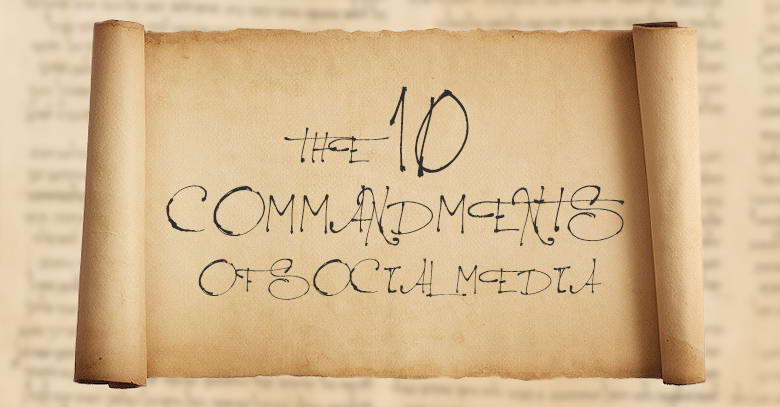 By Ashraf Choudhary
Ashraf Chaudhry is Pakistan's # 1 Sales Trainer, Social Media Evangelist and the author of the international best seller issues 10 Commandments of Social Media that can guide every new and old social media user:
1. Thou shalt make social media a vital part of thy communication.
No matter if you are running your own business, are a business executive, a celebrity, TV anchor, simply a house wife, doctor or a lawyer; the importance of social media cannot be underestimated. You can address the world free of charge with the help of social media tools.
Marketing these days is not the carte blanche of companies with big budgets. Anyone can open a business page at Facebook and start communicating with potential clients.
2. Thou shalt start blogging without wasting a minute.
You may have an awesome idea in your heart, but unless you share it with people it will be of no use. Blogs are a free platform to establish you as an authority on any subject. They are easy; they are dynamic and they are social media friendly. If you are a company and don't have your own blog, you are losing on your biggest promotional tool. Ask your marketing team to construct a blog today and start communicating with the world.
3. Thou shalt upload photographs on social media sites.
Uploading photos of your meetings and marketing activities on your Facebook page, blog, Flickr and Picasa increases your chances of being located through search engine searches. There is a saying that a picture is equivalent to a thousand words. But on social media, pictures can help your brand go viral in hours.
4. Thou shalt leverage the power of YouTube
After Google, YouTube is the second biggest search engine. Millions of videos are uploaded and watched daily. YouTube, if used creatively, can play a very critical role in the brand building journey; maybe through your own YouTube channel. The videos can be shared at social media websites. If your company has not uploaded your archive videos on YouTube yet, now is the time to start leveraging the power of this marvelous video sharing site.
5. Thou shalt set alerts.
In the virtual world, people are constantly chattering about you. They are giving feedback on your company's customer service.
Someone is talking about you in another part of the world, but how do you find that out? This is now possible through email alerts that you can receive within minutes of someone publishing stories about you. Google provides an excellent tool by the name of 'Google Alerts', which you can subscribe to and get immediate notifications on your brands and competition.
6. Thou shalt save cost and time on head-hunting through social media tools.
Do you want to recruit a brand manager or brand activation manager? Instead of designing a job advertisement, just search on LinkedIn and you will get hundreds of leads.
Inbox them your message and lo and behold! The best talent is within your reach without wasting time and money.
7. Thou shalt tweet 24×7
Your organization has so much to tell and many achievements to share. Today, this is possible through Twitter. In 140 characters, say what you want to say. If your content and message is of substance, people will retweet you. Always use hashtags (#) before key words so that you can be easily searched in Twitter feed.
8. Thou shalt integrate social media
To leverage the ginormous power of social media, various tools must be integrated. Your communication mix must be well integrated and similar for all social media tools otherwise the essence of the message will fizzle out.
9. Thou shalt use third party apps to automate updates.
Do you want your message to keep running on social media even when you are sleeping or having uninterruptable meetings or conducting 9 to 5 sessions?
You can schedule your updates or tweets on apps like Hootsuite.com, Bufferapp.com or Hellotxt.com etc. These applications are simple, free to use and will make your life much easier. Once you schedule them, they will relay your message dutifully even if you are not logged into any social media platform.
10. Thou shalt study social media for half an hour daily.
Social media is not a static thing. It is evolving and dynamic with new tools and new apps coming up almost every day. To keep pace with the new developments, you need to study social media trends and applications at least 30 minutes daily.