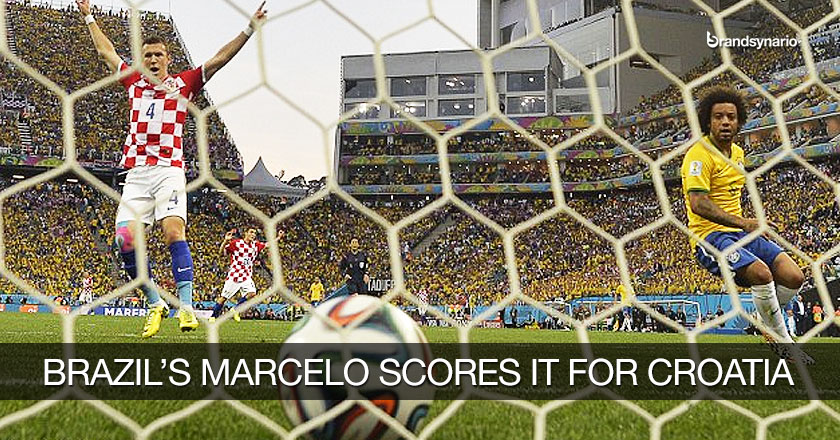 FIFA World Cup 2014 started off with its first goal from the host country itself. The only shocking thing was that Brazil did it for Croatia.
FIFA World Cup 2014's very first goal was an 'own goal' by Brazil's left back defender 'Marcelo Vieira'. Although an accident but a fortunate one for Croatia, who got the lead in first half of the game, thanks to Brazil's kind hearted endeavors.
Horrified reaction of Marcello (owner of the unfortunate leg that scored 'own goal') right after the goal seems justified as furious Brazilian fans rounded up on twitter with intensely abusive tweets intended to be directed towards Brazilian defender but instead directed towards a British model having a twitter handle of @Marcello instead of actual Marcelo's handle @12MarceloV.
@Marcello realizing the trouble that his twitter handle has gotten him into directed the furious fans into the right direction:
To all those hurling abuse at me for scoring an own goal, please re-direct your anger to @12MarceloV. Thank you

— Marcello (@Marcello) June 12, 2014
However, fans fury was soon calmed down as the score got evened up by Brazilian Forward and the star of the night 'Neymar', who bravely dodged his way through the field and kicked Brazuca into the right goal, getting the scores even, before the half time.
Although Brazil did win the match 3-1 but if seen in actual, all the four goals of the evening belonged only to Brazil.