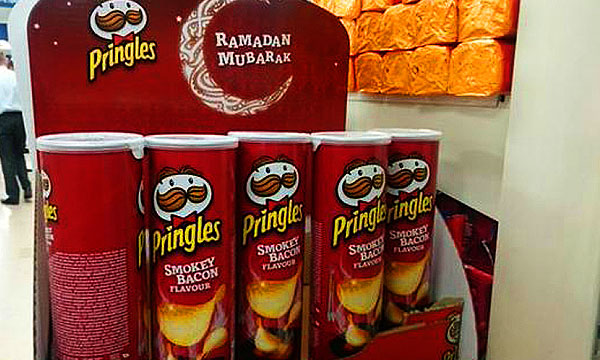 Retail is all in the detail…right? But U.K. based retailing and wholesale giant, Tesco could not get a very integral part of Muslim culture right.
Pork-flavored Pringles were made available on a special Ramadan promotions counter for Muslims in one of the London-based branches of the supermarket.
There are around 3 million Muslims currently residing in the U.K. and although this was an unintentional mistake, online social media has already circulated the images of the mistaken rack and people have tweeted about the faux pass this error has amounted to.
Pork is forbidden in Islam and the Pringles flavor placed on the Ramadan special racks was of "Smokey Bacon" crisps.
The month of Ramadan is the third most consumer-active religious festival in the U.K, the first and second ones being Christmas and Easter. Due to fasting, Muslims all across the globe need to buy extra grocery and food supply during this blessed month.
Tesco was quick to respond to allegations being posted on social media, one of the spokespersons for the retail store stated that "We are proud to offer a wide range of meals and products to meet the needs of our customers during Ramadan.
"We recognize these Pringles weren't in the most suitable place and our store colleagues have now moved them."
There was an equal amount of outrage towards Pringles and their Ramadan promotion when the crisps were to be only offered in their original classic flavors.
"We apologise for the mistake, which was made in one store in London. These Pringles can have now been moved," the company added.
"It was never our intention to cause any offence and we've taken steps to ensure this doesn't happen again.''
As a retail chain store, Tesco expects a sales increase of over £30 million Ramadan in till July 17th.