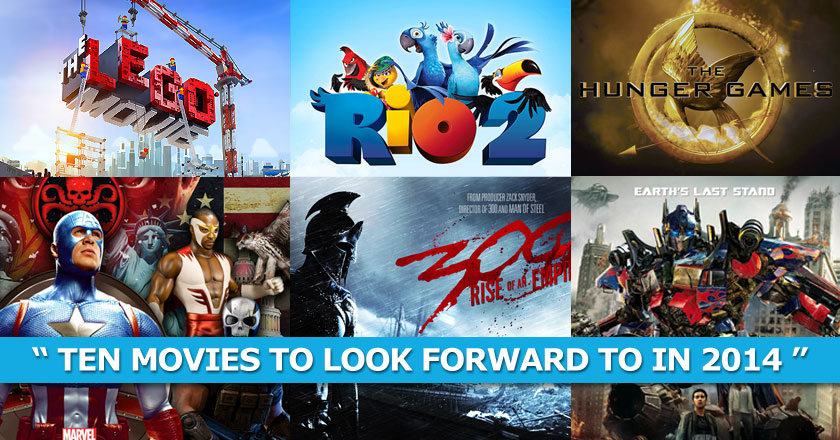 By Zoya Anwer
With many sequels, prequels, remakes and novel adaptations 2014 is all set to mesmerize movie lovers, who are in for a great year filled with fantasy lands, super heroes and animated characters.
Here are Ten Much Anticipated movies of 2014
1) The LEGO Movie
For all the LEGO lovers, the title speaks for itself. This animated adventure comedy American-Australian film will be released on February 7th with the story of one LEGO guy saving the entire LEGO city. Some notable voice-backs include Chris Pratt, Liam Neeson, Will Ferrell and Morgan Freeman. 
2) Robocop
One of the  most awaited movies of 2014, Robocop will not just be the remake of the famous sci-fi 1987 film series rather, it would be the fourth part of the series. With Joel Kinnaman in the lead role, famous actors like Gary Oldman, Michael Keaton and Abbie Cornish are also in the cast. The film is set to be released on February 12th.
3) 300: Rise of an Empire
For all the Sparta fans out there, 2014 brings you a fresh chapter from the novel Xerxes after a long period of seven years in the form of 300: Rise of an Empire. The periodic film which is a follow up of the previous one, 300 is directed by the original director, Zack Snyder. It will be a 3D movie with new actors like Sullivan Stapleton andEva Green along with old ones like Lena Headey and David Wenham.
4) Captain America: Winter Soldier
The Marvel comic hero, Captain America is back again after its first part, The First Avenger. Chris Evans along with Samuel L. Jackson, Cobie Smulders (Robin from How I Met Your Mother) will retain their previous roles while Scarlett Johansson as Black Widow would be a new addition to the team who will save Washington DC. The film which will be in 2D and 3D will be released on 4th of April 2014. 
5) Rio 2
The two cutest love birds are back in their adventures as Rio 2 returns with voice backs of Jesse Eisenberg, Anna Hathaway and Jamie Foxx amongst the rest. The film now will also have the adorable 3 kids of the couple. The animated film will release on 11th April in 3D.
6) Godzilla
With its dark and screeching trailer, sci-fi monster film Godzilla will release on May 16th. This film is a remake of the 1998 film whichdid not do so well. However this time, with superior graphics and its setting in current times, the film is expected to do a roaring business. With Aaron Taylor-Johnson from Kick Ass films, the movie is set to be released in 3D and 2D respectively.
7) The Amazing Spider-Man 2: Rise of Electro
Another Marvel flick is set to make waves this year as the very handsome Andrew Garfield returns as Peter Parker with Emma Stone as his love interest and Jamie Foxx as Electro, the villain. The previous film which was a huge hit created anticipation for this one which is to be released on May 2nd. 
8) X-Men: Days of Future Past
Here we are again with Marvel to strike again with one of the best league of Super Heroes, The X-Men. This will be Bryan Singer's fourth direction or the series and has the star cast of Patrick Stewart, Ian McKellen, Hugh Jackman, Helle Berry, Oscar Nominee Jennifer Lawrence and Michael Fassbender among others. The film which is an amalgamation of the past and future of the characters will be released on May 23rd in 3D.
9) Transformers: Age of Extinction
Michael Bay's sci-fi action movie Transformers part 4 is all set to be released on 27th June. This time however, there would be new faces and this change is keeping everyone on their toes. This time, Mark Wahlberg will be in the lead role with Nicola Peltz and Jack Reynor among others. Transformers series has always received sky-rocketing success and this one is also in line for that.
10) Hunger Games: Mockingjay Part 1
Hunger Games: Mockingjay Part 1 is definitely the most awaited film and will be released later this year onNovember 21st. The sequel to the very popular Catching Fire of the series based on the Hunger Games trilogy will be the second last film made on the series. With famous characters like Katniss played by the Oscar and 2013's Golden Globe winner Jennifer Lawrence and Peeta Mellark by Josh Hutcherson, the film is sure to be a roaring success.