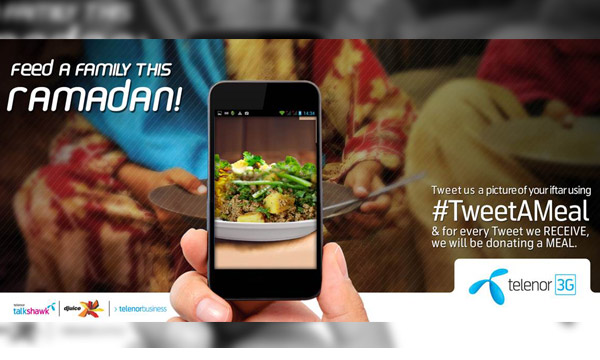 Ramazan is a month of spirituality, patience, empathy, and humbleness. Most of all, it's about giving back. The month embodies a sense of collectiveness and a caring spirit that everyone associates with and wants to be part of.
This year, Telenor wanted to give back to the needy and make their customers and the wider Pakistani community a part of the process. Thus, #TweetAMeal came about.
People love taking pictures of their food and sharing these pictures on social media even more. Instagram, Twitter and Facebook have become popular mediums for sharing pictures, videos and recipes of food. The telco giant identified this trend and wanted to use it for something charitable.
#TweetAMeal encourages users to tweet pictures of their Sehri and Iftar, on the premise that Telenor will donate a meal for every tweet they receive.
This campaign raises awareness about how a vast proportion of Pakistanis struggle to find sustenance on a regular basis and how fasting lasts longer than Ramadan for them.This unique initiative welcomes the online community to join hands with Telenor to participate and give back during the holy month. READ Foundation has been enlisted as the donation partner for #TweetAMeal.
Both organizations have a proven track record of looking out for the community, with READ tackling various educational issues in Pakistan, having built a network of 340 education institutions across the country.
This Ramadan READ Foundation is distributing meal packs among 2000 deserving families, Telenor Pakistan will reach out to those families with the help of READ Foundation.
Take a look at some of the tweets people have shared to support the cause:
#TweetAMeal @telenorpakistan tweet for a cause pic.twitter.com/mcYfamy16S

— Amina's Mehndi (@Aminakiran) July 6, 2015
Iftar time #TweetAMeal pic.twitter.com/lChQ5LTXg9

— Naveed Khokhar (@NaveedKhokhar20) July 6, 2015
Almost there. #tweetameal @telenorpakistan pic.twitter.com/tLpfHbvFhI

— iFawadSaleem (@fawadsaleem92) July 6, 2015
With the hope of reaching out to those who can't afford to eat. Here's to #TweetAMeal pic.twitter.com/gwiSsQP4Kv

— Hamza Amjad (@hamzamjad) July 6, 2015
Fruit chat… #TweetAMeal to fight against hunger pic.twitter.com/nLvKB9ebUr

— Khushi Bukhari ~♥~✿* (@khushi_bukhari) July 5, 2015