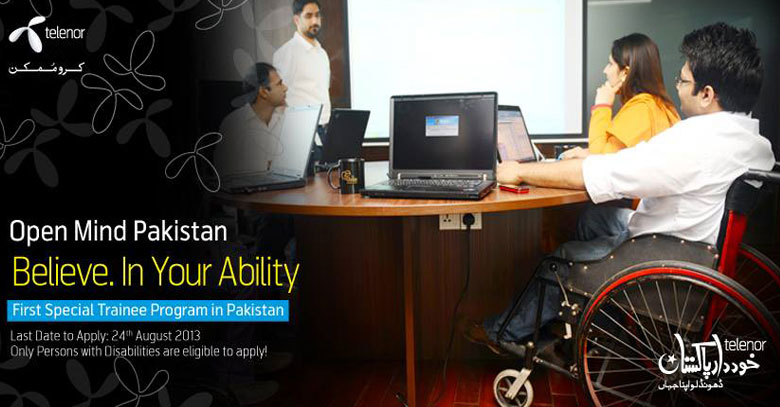 AUG 16th, 2013 – Telenor Pakistan launched a special trainee program named 'Open Mind' targeting disabled people of Pakistan and providing them a platform to utilize their skills.
The initiative caters to the handicapped people of Pakistan who have the skills and capacity to work, but do not have access to organizations that would hire them.
It is mandatory for participants, of this program, to have a bachelors degree and relevant knowledge and expertise in the field they are applying for.
This initiative is offering jobs in areas related to marketing, banking and finance, audit, human resources and even sales and distribution.
Telenor's 'Open Mind' Program would begin in Islamabad and then spread across the country.
According to The Express Tribune, a research in year 2012 revealed that an estimated 10% of the population in Pakistan is handicapped. Both rural and urban sectors are affected by it, giving Telenor's initiative a high success rate.
Telenor, being the first to launch this program, has managed to gain an upperhand on it competitors, as far as CSR activities are concerned, by facilitating this special segment to show their skills and be employed.
Through this initiative, it would give people an identity, despite being handicapped in society.