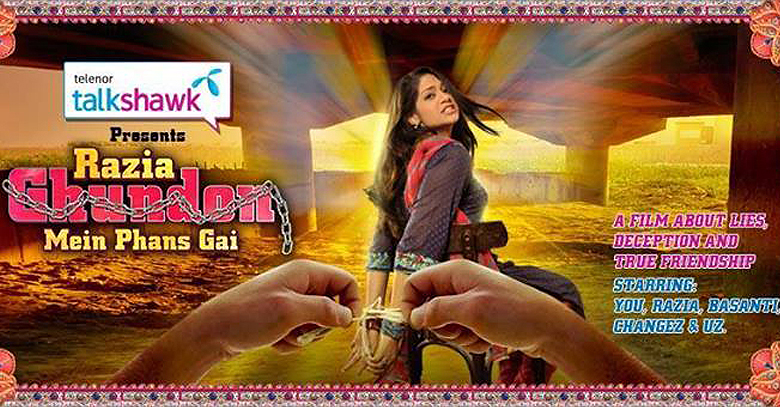 Telenor Pakistan recently bid adieu to its old tagline and revamped it to "Sachee Yaari, Sub Pey Bhaari". The brand's next stop is an advertiser funded endeavor "Razia Ghundo Mein Phas Gai"; a film about life, deception and friendship.

Kicking off with a teaser campaign, the telecom giant has rolled an eighteen second promo of the movie on its Facebook page. The clip starts with a countdown and shows a girl demanding someone to rescue her, while a male voice responds to her plea and screams "Razia Mein Araha Hoon" (I am coming Razia).

Apparently, Razia must be the "damsel in distress" in the film, waiting for some knight in shining armor to rescue her from the clutches of evil.

But what is the motive behind this cliché' filmy drama created by Telenor?

This time the brand has opted for a much aggressive Lollywood touch. From the loud colors to flashy characters, the brand has taken a diversion from its usual classiness and sophistication to a sheer Desi flavor.

Last month, Telenor Talkshawk Mohafiz was launched using a similar but, a lighter version of the new positioning, starring two popular Lollywood icons Ahsan Khan and Noor.

Sadly, the idea is not at all new to the audience. From the concept of the campaign itself to the storyline of the movie, Telenor has failed to come up with something fresh and new.

Tarang Tea Whitener has already conceived an effort along the same lines by the name of "Tarang Housefull"; a brilliant re-modernization of Pakistani classics with an extravaganza of bhangra songs and dance routines. Much to our dismay, it seems that Telenor's attempt is nothing but a bad copy of Tarang's initiative.

Other than that, this kind of a branded entertainment might have worked well if it would have been launched under the banner of Djuice, Telenor's youth centric brand.

Positioned previously as a brand that stands for reliability, emotional bond and sophistication; this 360 degree turns around might cause some serious damage to the brand's essence.

But will this transformation really work for Telenor? We've given our views, time for you to give yours.