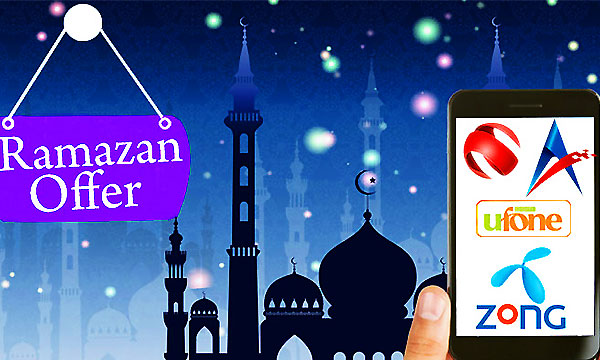 Just when you thought that you have seen all the special Ramadan offers from all sorts of restaurants, garment stores, utilities and what not; our Telecom operators prove it's not the end yet!
With packages and offers shouting onscreen almost all the year, let's have a look at what special telecoms have to offer in this month:
Telenor:
This Ramadan, Telenor has good news to offer just to its mobile internet users and callers. No special offer is presented for the SMSes yet.
i) Talkshawk Ramazan Offer
From Sehr to Iftaar (midnight to 8 pm), Telenor is giving on-net call rate of Rs. 2 + tax per hour to the Talkshawk customers.
How to subscribe?
Dial *5*128#
 Subscription charges:  Rs. 1 + Tax.
ii) Telenor Internet Ramazan Offer
Enjoy 1000MB Internet along with the free access to Telenor Islamic Portal by going to Islamic.telenor.com.pk. It is valid from 1 AM at night to 7 PM in the evening
How to subscribe?
Dial *345*139#
Offer charges: Rs. 8/- only
Ufone:
i) Ufone Ramazan offer:
Enjoy unlimited calls to all Ufone, PTCL and Vfone numbers from Sahar to Iftaar i.e 4 AM to 7:30 PM for Rs. 4.78 (including tax) per day. Although, call charges of 10 Paisa + tax per call will be charged as said by the company.
How to subscribe?
Dial *4# to subscribe to the offer from 1st Ramazan till 27th Ramazan 2015 and it will automatically resubscribe at midnight.
To unsubscribe the offer, dial *2745# Call charges of 10 Paisa + tax/call will be charged
ii) Ufone Ramazan Alerts:
This offers Ufone daily alerts for Sahr and Iftar, daily prayers, Hadees, Ayaat and Masnoon dua's for free.
How to subscribe?
Dial *1#
Zong:
i) Ramazan Recharge Campaign
Unlike other Ramzan campaigns, it is not offering any material incentives to subscribe to its offer. In fact, it is more of a campaign intended to facilitate its customers who want to do a kind act in the holy and blessed month of Ramazan.
Zong is asking to recharge your phone where each Rs.100 recharge will contribute 2.5% in the form of Ration to those who deserve it the most.
ii) Ramazan offer for Postpaid Customers:
For the postpaid customers, Zong is giving a chance to win Umrah ticket or a special iftar package or Ramazan gift boxes on consuming Rs. 2100 or more.
Warid:
To our surprise, Warid has not come up with any Ramazan package yet. Nonetheless, it is offering to start a spiritual journey with its Islamic Service which includes special Quizzes, Ramadan-related prayers etc to facilitate the users this Ramazan.
In addition to this, it also gives access to Quranic Verses with translation, Tafseer of Quran, Dars and Bayan from renowned Ulema, Hadees, Namaz timings, Hamd, Naat, Qawali and various Dua's.
How to activate this offer?
Dial *786#
Offer charges: Rs. 5+tax per 10 minutes
How all these telecommunication companies are competing by offering substantive variations this Ramadan is a rare watch and indeed commendable!