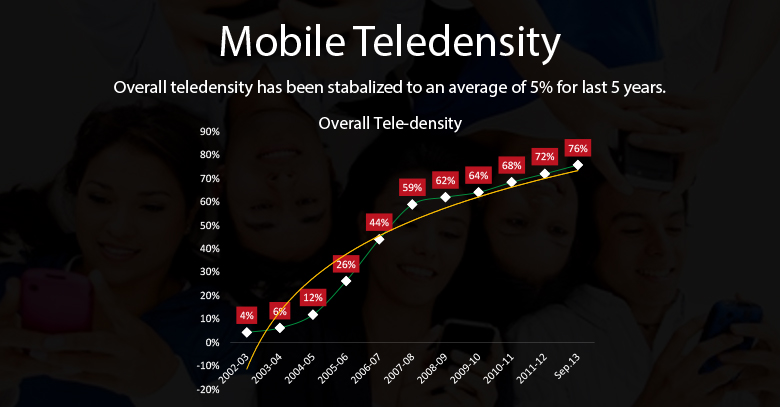 The fastest growing sector in Pakistan, Telecommunication has now reached to its maturity in 2013. 
The infographics made by our research team explain the evolution, growth and the current telecommunication market situation in Pakistan
Mobile tele-density is a term used for the number of mobile phone connections for every hundred individuals living within an area. Telephone density for a nation is closely connected to per capita GDP of the area.
Cellular mobile services in Pakistan commenced in 90s when two cellular mobile telephone licenses were awarded to Paktel and Pak Com (Instaphone) for provision of cellular mobile telephony in Pakistan.
The growth rate in its earlier years started from 90% to 121% which later started to decrease to 68% and now currently in 2013 total tele-density has reached to 74% and the growth rate has reached to 1%. 
Pakistan mobile market maintained rapid growth from 2006. Steady growth saw addition of more than 100,000 mobile subscribers every month throughout the last year.
Pakistan has emerged as one of the fastest growing mobile markets among the developing nations. This year the sector grew by 5% whereas average growth rate in last 5 years has been about 5% too.
The rate was 44% in 2006-07 and is now getting stagnant by the passing years. Today total subscribers have reached 129.6 million (Sep 2013) whereas it was 120 Million in 2012 and 108.9 million in 2011.
Talking about individual operators growth, Warid gained highest consumer base of about 856% in 2005. The conversion of Paktel to Zong caused the shift of 286% consumers from other networks and new consumers were added as well. Where zong continue to gain its subscribers (54% in 2012), Warid has lost upto 22% users.
In last 12 months, Mobilink consumer average is adding about 100,000; Zong upto 300,000 and Warid is losing about 70,000 consumers per month on an average. Currently Mobilink has the highest subscriber base comprising of 36.7 million and U-fone with 23.8 Million subscribers.
Source: PTA