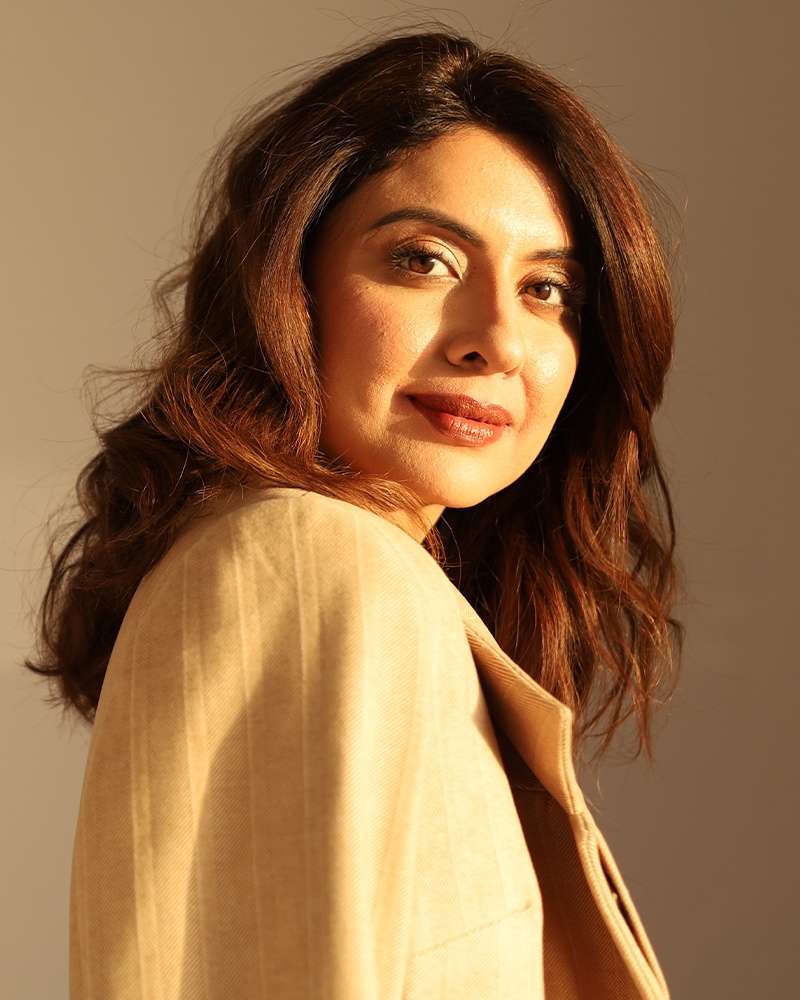 Sidra Iqbal
Journalist, anchor and public speaker
1. This International Women's Day, I pledge…
To celebrate and honor every woman, especially myself. I promise to maintain a gender parity mindset and challenge societal stereotypes and biases. Most importantly, I pledge to forge positive visibility for women through my work in media and other avenues.
2. Across the organizational landscape, I want to see more female representation in…
Inactive and visible decision-making roles. There are many ceremonial authority positions that have no real say or power. On the other hand, many are the behind-the-scenes real movers and shakers, who are moving mountains to make projects successful. Yet they are never given credit for their contribution. I would like to see more gritty women, at the helm of affairs, steering the wheel and taking complete ownership of their decisions.
3. The one stereotype about women that should be busted this year is…
That a woman can either have a successful career or a successful personal life (marriage). It is toxic societal conditioning that compels talented women to stay small, sacrifice, or compromise. We are done having to pick one and be unhappy. We want it all; a happy fulfilling personal life and a flourishing meaningful career.
My organization is promoting gender equality and women empowerment by embracing diversity and inclusive representation and practices.
4. My organization is promoting gender equality and women empowerment…
By embracing diversity and inclusive representation and practices. To a great degree, women from a wide spectrum of academic, ethnic, and ideological backgrounds, have a level playing field and equal opportunity to make a name and earn their place in media and the corporate world. For some, the path may be more tedious, yet the representation from in all quarters has improved significantly. A good example is Coke Studio season 14, where we see a much more inclusive mix of talent, especially women.
5. I believe women can fight gender inequality at their workplaces…
By challenging their own bias and preconceived notions. We are the first to bring another woman down and see her as competition. We are quick to judge and delayed in extending support. My personal pain point; even the most celebrated and influential women in media continue to stereotype gender roles in their productions.
Why do our stories still show the protagonist as a damsel in distress being pressured to marry and 'settle'? Why is finding the best diaper, the strongest tea brew, or the detergent that makes your husband's shirts even whiter, shown to be such a highly emotive experience for women in TVCs? Why aren't men ever asked 'Kya aap ka toilet waqaee saaf hai? (Is your toilet really clean?). Are we conditioning society to see these as a "good woman's priorities". I wonder how can one be a feminist wanting a fairer world for women, while creating the same glorified-victim characters and storylines.
6. As for men, they can help reduce gender bias at home and work…
By healing their relationship with their ego. Ego isn't the enemy. The ego's job is to protect us. But in order to do so, it is always looking for danger. Even if the situation isn't threatening, it still evokes threat because it expects something to go wrong. More importantly, the ego is that part of us that loves the status quo – even when it's not working. It attaches to past and present and fears the future. Therefore, for things to change for the better, society's understanding and relationship with the male ego must heal and pave the way to an open heart and an open mind.
7. My message to young aspiring women looking to start a career in 2022 is…
Over giving, people-pleasing, and being extra empathetic are all signs of having bad boundaries. Never dull your shine or make yourself small to please other people. Know your worth and accept nothing less. And lastly, in the words of Maya Angelou, 'When someone shows you who they are, believe them the first time.'