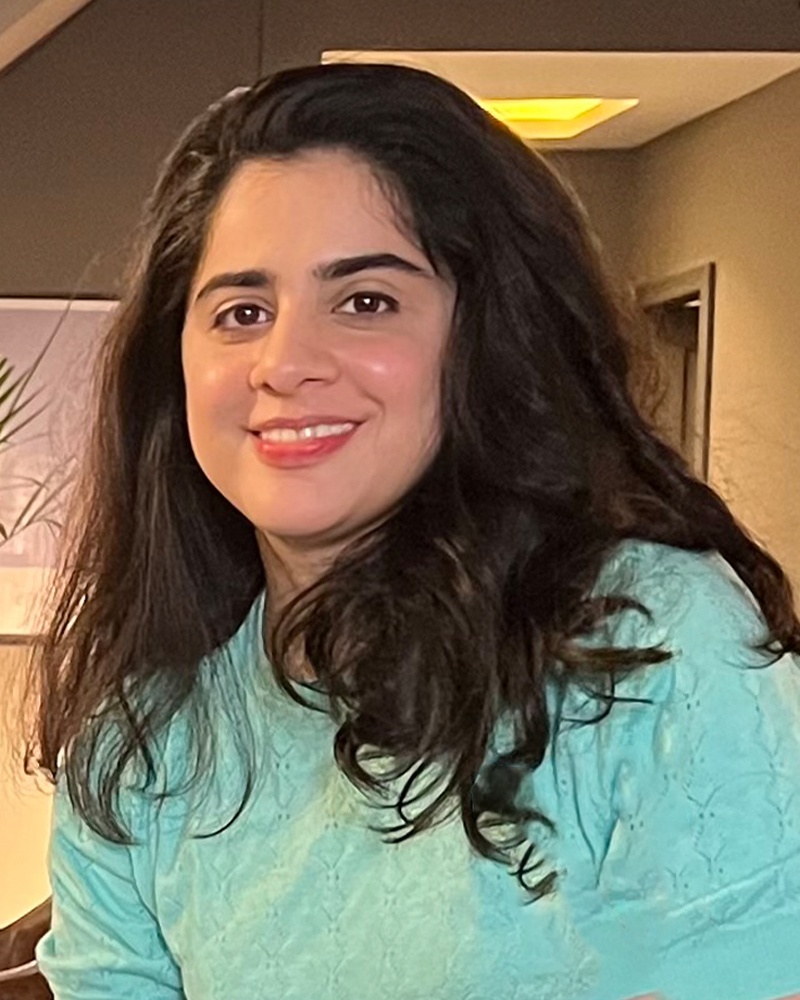 Rabail Majeed
Partner Management Specialist – SAP Pakistan
1. This International Women's Day, I pledge…
To empower women to live their lives as they choose.
2. Across the organizational landscape, I want to see more female representation in…
Leadership roles. I have met many people in leadership roles that have been "good" – but I have never met a female leader that I wasn't completely in awe of! I think the boardroom is where we can see a lot more women representation, and as we collectively work to fix the system from the ground up, we can hopefully see more of that in the future.
3. The one stereotype about women that should be busted this year is…
That soft-spoken women are less capable of getting things done, whereas women that are assertive can be labeled 'too tough' – There's this puzzling Catch-22 I've observed in the industry. I haven't seen this sort of cataloging for men. Instead of being quick to assign gender-based labels to women, we instead should focus on their skill sets and competence.
"SAP Pakistan is promoting gender equality and women empowerment through its commitment to diversity and inclusion, and according to SAP Pakistan, it is 'critical to our success'.
4. My organization is promoting gender equality and women empowerment…
Through its commitment to diversity and inclusion, and according to SAP Pakistan, it is 'critical to our success'. This commitment is woven throughout all of what we do, starting right at the hiring stage which is specifically honed to reduce bias and increase opportunities granted to candidates of all backgrounds. Our Leaders have D&I scores built into their success KPIs, and all employees are quarterly asked for systematic feedback which is then reviewed and discussed at every level of the organization. This is not some casual survey; it is a proper forum for employees to have inclusive communication with the management.
We also have the Business Women's Network, among others, that has annual objectives and goals to help promote gender equality by way of different events and activities. There is a very healthy push for women here to be the best version of themselves and take the spotlight while doing so.
5. I believe women can fight gender inequality at their workplaces…
1. By sharing their experiences with others, especially younger people in the network. There might be a positive lesson or solution that someone out there (boy or girl) is waiting to learn, and your story might contain it.
2. Ask for your rights – it starts with you. There are many good forums that help women understand their rights and how to ask for them – it's OK to reach out to them and learn this skill.
3. Take the time to educate. If you feel you are at that stage in your life where you have the resources to do this, take out the time to either mentor someone or to donate your time or money to girls' education. Often, young girls find it hard to reach out and ask for help, as women role models in their own lives can be hard to come by. It could be as simple as you choosing to spend a few hours a month coaching final year students on their resumes and career aspirations.
6. As for men, they can help reduce gender bias at home and work…
By promoting discussions of equality, diversity, and inclusion, men have a very important role to play here. In my time living in Pakistan, I've observed that boys tend to have an edge while entering the job market or at any given age because they're encouraged to develop self-sufficiency from a very young age. In a bid to protect girls we sometimes end up giving them less exposure to the real world and fewer opportunities to create self-reliance and a belief in their own abilities. I believe men can help break this barrier by working with the women in their lives, especially the next generation, and creating avenues for understanding real-world challenges and taking them head-on. There is also a huge role that awareness plays here. I've had many insightful conversations with colleagues who choose to take out the time and educate themselves on challenges faced by women so that they can become part of the solution.
7. My message to young aspiring women looking to start a career in 2022 is…
While we still have a long way to go, the world has become a much better and more inclusive place than it was before, thanks to the tireless and unprecedented efforts of generations before us. There are countless opportunities out there for you to get started, and a lot of great resources to learn from thanks to the Internet. Make use of every opportunity to learn, it is critical to have a growth mindset to succeed. Don't shy away from the spotlight and always take credit for your hard work and ideas. Like I said earlier, know your rights and ask for them too. Lastly, don't be disheartened by the time it takes to create a network or find the right mentor – you have a long journey ahead of you full of growth and success, and patience with consistent determination is part of the game.