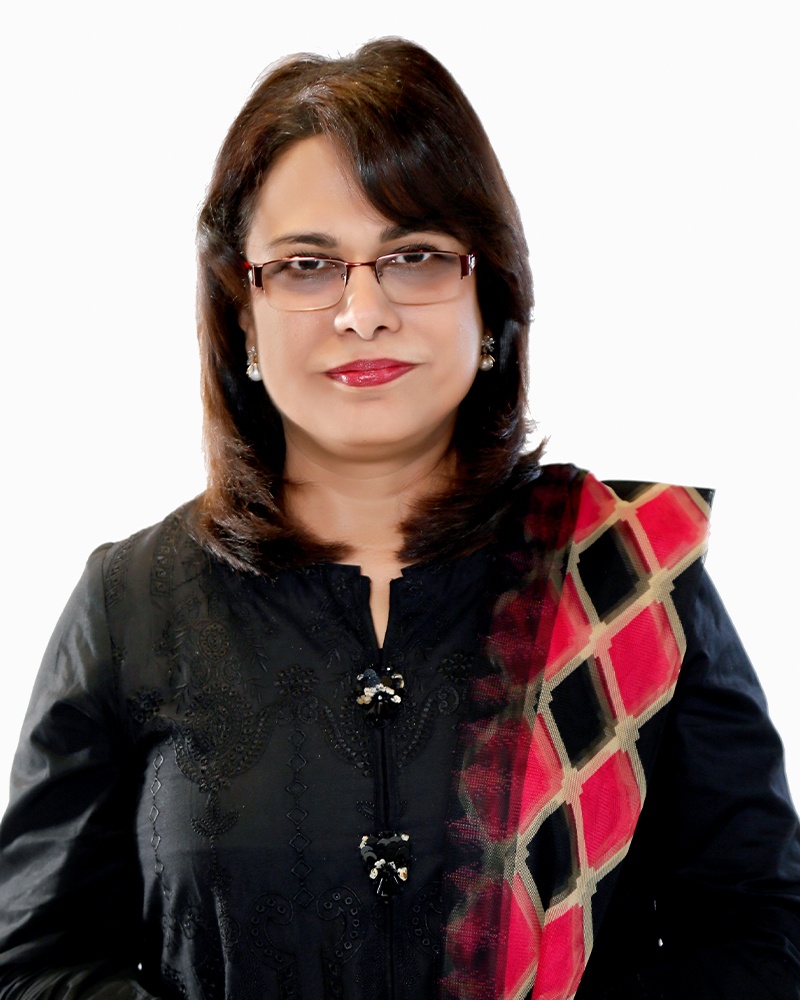 Pouruchisty Sidhwa
Chief Human Resources Officer, Telenor Microfinance Bank/Easypaisa
1. This International Women's Day, I pledge…
To play my part in breaking the stereotype that men alone can be successful business leaders. Women today are champions of organizational change and they must be encouraged to become successful business leaders and reach new heights in their careers. Bringing about change in perception is a process that requires personal commitment and therefore, this is a commitment we should make this Women's Day.
2. Across the organizational landscape, I want to see more female representation in…
Almost every domain of corporate entities today. Although we are witnessing a rapid rise in the participation of women amongst a diverse range of industries, I would personally want more females to join the technology space.
3. The one stereotype about women that should be busted this year is…
The stereotypes regarding women working in roles that are considered male-dominant require effective correction as females today hold the potential to represent organizations in every domain and on every level. Even today, where women are being given greater opportunities to rise and excel, there are still taboos attached to the professional fields that they should be a part of. Nowadays, female professionals are capable of managing their own businesses, leading diverse teams, and executing robust ideas. Therefore, the myths that limit their professional responsibilities are in dire need of being shattered.
"Telenor Microfinance bank/easypaisa is is promoting gender equality and women empowerment By giving women ample opportunities to not only become part of the internal value chain but also to grow while realizing their true capacities."
4. My organization is promoting gender equality and women empowerment…
By giving women ample opportunities to not only become part of the internal value chain but also to grow while realizing their true capacities. Telenor Microfinance Bank/Easypaisa has women working as heads of their respective departments while also leading cross-functional teams across the organization. Here, there are no limits to what women can achieve. To encourage more and more females to join the workforce, we offer different facilities like pick and drop, transportation allowance, daycare, and hybrid working, amongst numerous other benefits. This year too we are bringing in different initiatives to increase female representation which include developing a female salesforce, a dedicated program for females who are on a career break, mentorship programs, and workshops on gender sensitization at the workplace. One thing that I would also like to mention here is that we pay for performance, our female workforce enjoys equal pay as the male workforce, in fact, they avail more benefits as compared to men.
5. I believe women can fight gender inequality at their workplaces…
By enabling other women in the field by acting as mentors and mediums for encouragement to them. Women today are a force to reckon with. Commanding authoritative positions and senior management roles, they are already creating a ripple effect that inspires other women to aspire towards greatness as well. At the same time, they can also promote avenues for the growth of women like tailor-made training programs for internal and external stakeholders in the organization.
6. As for men, they can help reduce gender bias at home and work…
In personal capacities, men are fathers, husbands, and brothers. Their encouragement and support mean the world to women as they strive to make a mark for themselves in this male-dominated world. Within organizations, they are seniors, mentors, and colleagues who can encourage their female colleagues. Most women who have made it big have had super support from their male mentors and bosses. Therefore, a little encouragement and support go a long way!
7. My message to young aspiring women looking to start a career in 2022 is…
Women today are reshaping the corporate sector whether they are working as team members or senior executives. My message for aspiring women is to look up to those women and find their inspiration in them while working to strive towards what they have achieved and beyond. Never use your gender as a crutch, rather use it as a strength. Women are way stronger and wiser and can multi-manage effectively.