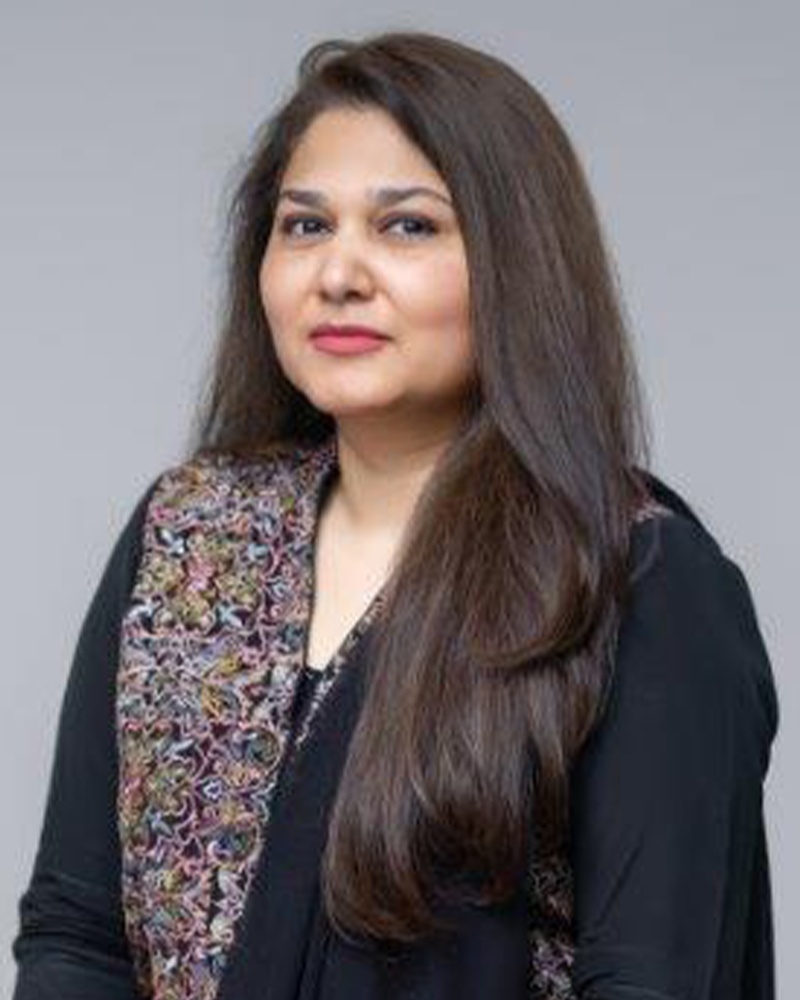 Areej Khan
VP Digital, Telenor Pakistan
1. This International Women's Day, I pledge…
To differ from the preconceived notion that women do not support other women – I pledge to lift other women up because their win is our win. This Women's Day I encourage all those gung-ho women out there to come together as one and elevate one another like never before.
2. Across the organizational landscape, I want to see more female representation in…
In the mainstream business arena. If you come across big chairs and high tables, you'll notice the power shift tilting more towards men, depriving women to serve as valuable thinkers and decision-makers. We're beyond the phase where women were only brought in for diversity-quotas, and we've more than proven to be of greater value. It's imperative to add here that with 49% of Pakistan's population being women, it appalls me that there is not enough representation of half of our population when businesses are working to create value for their customers. One-directional opinions or voices are not sustainable. We need different voices to speak about different issues.
3. The one stereotype about women that should be busted this year is…
Work-life balance and the rose-colored glasses we view it with! How can we expect an individual to balance their weight if they have their feet in two different boats? It's like setting them up for drowning (in failure!). It is these assumptions and preconceived and glamourized concepts of work-life balance which stretch our employees too thin. It leads to this perception of perfection, which doesn't exist and nor should it. Women are always on double-duty, and when you add this notion of them being superwomen that can balance everything perfectly, you're anchoring them down than uplifting them.
I believe success lies when women in the workforce embrace that they might not be perfect at everything that some days they might not be a present mother because they have a deadline to meet or on other days they might not be on top of their game at work because the baby just wouldn't sleep the night before. I believe the secret recipe here is finding work-life harmony.
"Telenor Pakistan is promoting gender equality and women empowerment by promoting a culture of mutual respect, which I am glad to report has been the essence of the work culture at Telenor Pakistan.
4. My organization is promoting gender equality and women empowerment…
By promoting a culture of mutual respect, which I am glad to report has been the essence of the work culture at Telenor Pakistan. One of the prime reasons I have been a part of Telenor Pakistan for this long (16 years) is because of the culture of the organization. Women thrive in a culture of mutual respect, which I'm glad to report has been the essence of the work culture at TP, no matter which era we look back at. As a mother who wanted to throw in the towel quite a few times, this organization has made me realize that the greatest asset Telenor Pakistan has provided me with is flexibility. From a contingent working routine which enables employees to work from anywhere and anytime; the daycare facility along with nanny allowance; six months of paid maternity leave, and the focus on an employee's growth without compromising on merit has made a huge impact – and to this day, remain a set of facilities and perks that only Telenor has to offer women. Telenor Pakistan's Naya Aghaaz Program has been a game-changer in empowering women who are looking to re-enter the corporate world after a career break, and it's projects like these, that perhaps make my association with Telenor a long (and lasting) one.
5. I believe women can fight gender inequality at their workplaces…
By raising their hands and seizing opportunities that come their way. My mantra is 'you can't be what you can't see'. Women need to take on more mainstream roles, be the guiding light for younger generations by mentoring and sponsoring other women so they may learn from their journeys, and collectively, we uplift women as a whole, Pakistan as a whole.
6. As for men, they can help reduce gender bias at home and work…
By changing the hiring process or opening their conceptual universe to greater possibilities that come with women's inclusion. I am a proponent of 'He for She' as this culture really helps in encouraging and promoting capable women, who are recognized and acknowledged for their capabilities, outlook, and merit. Having said that, what some organizations at times get wrong is when they start pushing too hard. To meet diversity targets, organizations and men in decision-making positions don't stress merit-based hiring enough. This is where male colleagues can play a pivotal role, where women are encouraged to partake in influential roles while ensuring merit prevails. When they become a partner to the cause, younger men emulate them and instead of becoming averse to the diversity of thought, age and gender they become promoters of it.
7. My message today to young aspiring women looking to start a career in 2022 is…
I urge you to not be driven by the notion of what is possible and what isn't. Be brave, take up new challenges, push your own boundaries. Compete with yourself, be a better version of yourself each day. With all of this tied to your vision of YOU, trust me, you will win in its truest meanings.