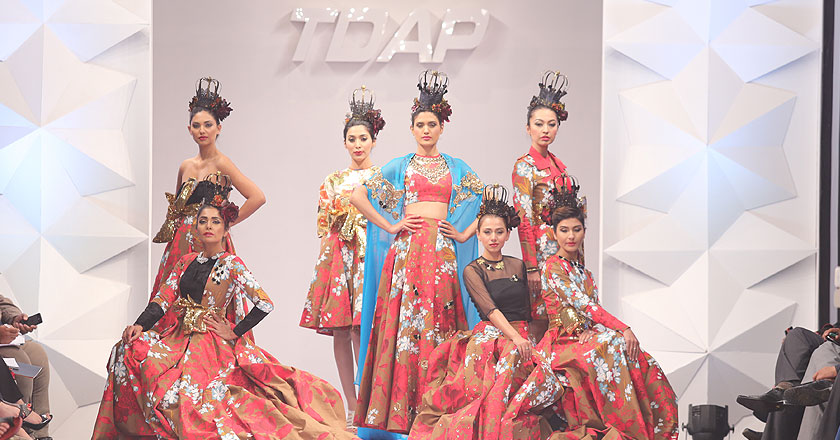 The 9th Expo Pakistan Fashion Show witnessed the work of Pakistan's top fashion houses. The two day fashion show held at Pearl Continent Karachi was a clashing mixture of shades, pallettes and fabrics.
The designers presented their tasteful tailoring and classical silhouettes in form of an outré and extravagant prêt and luxury prêt wear. Although a reminder of previous designs, the ramp was filled with sheer-body skimming layers, huge headpieces and voluminous folds of fabrics.
Headed by Rabiya Javeri Agha (Secretary TDAP) and S.M.Muneer (Chief Executive Officer TDAP), the event was a successful effort to showcase Pakistan's best talent in the fashion industry to prospective foreign buyers.
The fashion show included some brilliant, some decent and some outrageous dresses by Zaheer Abbas, Sahar Atif, Maheen Kardar (Karma Pink), Akif Mahmood and Adnan Pardesy
The designers also presenting their capsule collection for Fashion Pakistan Council include Sana Safinaz, Maheen Khan (Gulabo)and Deepak Parwani with a grand finale by the sartorial genius, Ali Xeeshan.
Walking for these outfits of extreme craftsmanship, include the vivacious Iraj, Kiran, Hira Tareen, Abeer, Areeba, Eshal Fayyaz, Mahroosh, Tatmain, Sarah Sarfaraz, Ekra Fayz, Sidra Sajid, Fia Khan, Gohar, Nazish, Sadaf and Sonia Nazir.
The hair and makeup for TDAP Fashion Show 2015 was done by Sabs Salon with official media partner being HUM TV Network.
Take a look at some of the event's best looks: