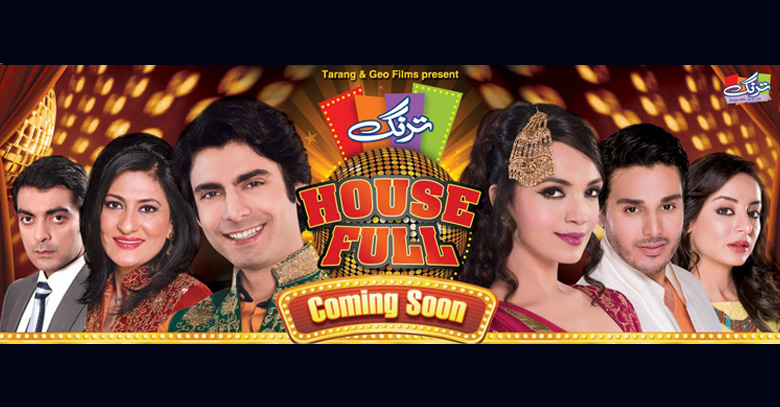 We woke up one day and saw Moammar Rana dancing to an upbeat number, next day it was Meera Jee and Saima Jee. Even the hot and sober Fawad Khan couldn't escape this dancing spree. No, it we're not talking about any film promotion or even Telco.
We ladies and gentleman are talking about a tea whitener popularly known as Tarang. Well, the name says it all.
Since the day it was launched, Tarang has always had a Lollywood flavor in its ads. From the loud colors to the bhangra beats, from the film stars to the energetic dance routines, all their communicationsreflect Pakistani Film Industry.
Tarang was, hence, in a position to utilize this platform for the revival of the lost glory of Lollywood.
In their recent initiative,Tarang Housefull, Tarang came up with a brilliant campaign to make modernized remakes of six classical superhits from the golden era of Pakistani cinema.
The selected titles were'Abhi to main jawan hoon', 'Anjuman', 'Dil mera dharkan teri', 'Aina', 'Armaan', and 'Devar Bhabi'. According to Tarang, selection of the films was based on a number of factors including songs and story. Each film dealt with a different social topic.
Tarang Housefull was a unique form of content where a brand integrates its message with a specific media vehicle while reminiscing the past.
TarangHousefull re-inventedthe classical films while keeping the original essence alive. The historical tones peeking from under the modern demeanors haunted the older audience while intrigued the younger ones. It brought together great names from both the film and TV industry.
These films were a joint venture between Tarang and Geo Films. With a film telecasted every week for six weeks from GEO TV and PTV, Tarang Housefull kept the audience enthralled and enraptured throughout April and May 2013.
Packed with memorable songs and energetic dance performances, each remake was well thought-out, well-planned and completely in-line with Tarang's communication. Tarang Housefull concluded in June 2013 with Tarang Housefull awards, in which the Tarang Housefull cast, directors, producers etc. were rewarded for their work.
Tarang, as a brand, has not wavered from its positioning. Only time will tell whether they have been successful in their attempt to revive the Pakistani Cinema or not.
All eyes are now on Tarang for bringing us another breath of fresh air.