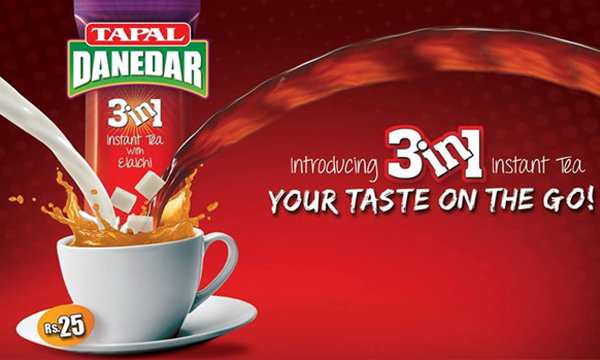 One of the leading tea brands in Pakistan, Tapal has just upped the ante in the brewing brand war by rolling out a new variant in the market, "Tapal Danedar 3in1 Instant Tea"
In a land where chai is an everyday ritual, adored by all and the Holy Grail of all drinks; Tapal's instant tea will enable chai lovers to enjoy a steaming mug of love prepared in just seconds.
Watch how to make the perfect cup of Tapal Danedar's Instant tea:
While days are busy and nights are tiring, the chai-craving souls constantly can relish their tea yearnings and save themselves from the hassle with the convenient Tapal's latest product variant.  Be it work or studies, home or traveling, unexpected guests or a picnic; Tapal's instant tea saves the day by offering a welcoming cup of tea just in a single mix.
Tapal vows to deliver the same strong taste and consistency with its instant magic sachet. With a touch of cardamom flavor, the aromatic tea revives the senses and offer a heart-warming feeling of freshness.
So if you want to treat yourself with a quick steaming mug of Illaichi chai, add hot water to the mix and stir. Voila! Your Tapal 3inI Instant tea is ready to devour.