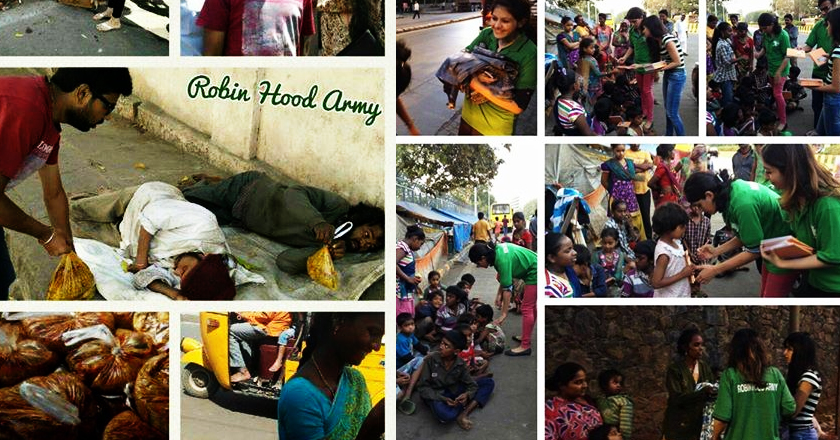 Lurking in the busy streets of Karachi, adorned in green, walking fearlessly, a band of young men and women meet the city's ultimate saviors of the homeless and hungry: The Robin Hood Army. 
The knights of the Robin Hood Army are not so different from the fictional English outlaw they have named themselves after. With goodness in their hearts and the aim of helping the needy in their eyes, their mission is to ensure that no poor goes to bed hungry at night.
Borrowing surplus fresh food from the hotels and restaurants, the army heads out to provide the city's deprived and provide them with warm food to survive.
The social initiative is the brainchild of Delhi-based entrepreneurs, Neel Ghose and Anand Sinha who were inspired by Portugal's noble organization "Re-food" and thus first introduced the idea in India.
Now spreading its wings across the border, the "champions of the poor" discovered a friend in Karachi, Sara Afridi. After partnering with her, the philanthropic movement kick started its Pakistan chapter under her supervision.
"According to the FAO, 40 percent of children in Pakistan are malnourished and underweight due to lack of access to adequate food. And this is not because there isn't enough; Pakistan is the 8th largest food producing country, however, 50 percent of the population is food insecure," stated Sara in an interview to Dawn News.
Thus on 15th February, the day of the opening World Cup match of India and Pakistan, team RHA hit the streets to distribute freshly packed Biryani to around 100 underprivileged people of Karachi city.
Their effort that day clearly spoke volumes that how both India and Pakistan need to set aside their differences and unite together for the humanitarian cause.
After ten days, the RHA head out to the Karachi Cantonment Station and successfully managed to feed over 250 porters.
"The idea of feeding the less fortunate is not novel to Pakistan. Most of the people just think of this as falling under the umbrella of practices (such as Sadqah and Niaz) that already exist. They are, however, quite happy about us bringing food. Food spreads happiness and everyone can use a little happiness," said Sara. 
While they have been funding the initiative from their own pockets till date, Nando's Pakistan became the first restaurant to extend it services to RHA.
Following Nando's league, Ginsoy and The White Biryani have teamed up with the army in their fight to end hunger once and for all in the country.
In a city like Karachi, where law and order situation is mostly unstable and the natives are busy surviving, the two-week old noble program has witnessed an extraordinary, warm response from the people.
The knights of the Robin Hood Army are now gearing up to head to Lahore this summer, being a light for those in need and showing how individuals can contribute towards the city the live in.
If you would like to connect and participle with RHA, visit its Facebook page here. Also take a look at the happiness they are spreading: