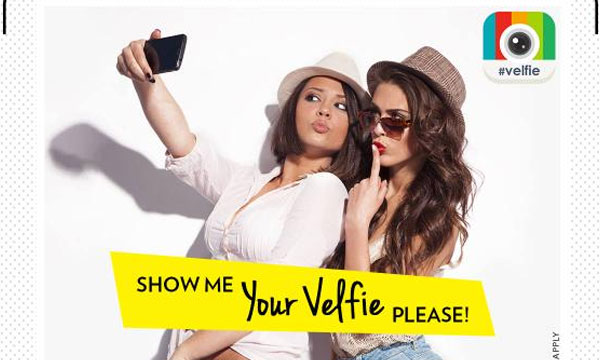 As the world hopped on to the Dubsmash-ing trend, Indian entrepreneurs decided to cash it all in with a desi version of the lip-synching app, #Velfie.
#Velfie revolves around pretty much the same idea as Dubsmash: users can shoot short videos of themselves while lip-synching popular dialogues from their favorite celebrities. These "velfies" can then be shared with friends and family via other networking apps including Facebook, Twitter, Instagram, Whatsapp, Hike and Line.
Velfie is available for both Android at Google Play Store and iOS at iTunes.
On installation, the app prompts you to login using your Facebook or Google account, select your country and insert your cell phone number. After registration, the app is pretty simple to use.
You select a sound (famous dialogue or music) from a category to dub your video to, start recording and then save and share. The app is available in three different languages; English, Bengali and Baluchi.
Read more: Velfies: The Rising Trend in India After Selfies & Dubsmash Videos
The sound categories range from Bollywood dialogues to Hollywood ones and sports categories to cricket commentaries.
What differentiates the app from its inspirational model, Dubsmash, is the pause and record feature. Velfie App allows users to pause the video in between and restart recording as many times as they want in the 10-second short video.
With this feature, users have recorded single videos in different avatars and backgrounds to give it a hilarious touch. Velfie also offers the option of adding subtitles which help you to easily and exactly lip-sync the sound that you have selected.
Moreover, the fact that the app has been developed by Indians, it has a more desi effect to it than Dubsmash with more Bollywood and Indian sounds rather than foreign ones.
What's more interesting is that if you can't find your favorite song in the Velfie library, you can record your own and upload it too.
While the app developers claim that there are over 10,000 users downloading the app daily across 150+ countries, the reviews show that people are quite unhappy with the app. Some are complaining that it closes down without allowing them to create videos while others are having problems saving the shot videos.
We, at Brandsynario, gave the app a test run and we are disappointed too. While the app does allow us to shoot videos and save them, on playback the video appears all distorted, with multicolored static.
The Velfie app isn't allowing us to add sounds either. The app hangs once we are done recording and doesn't allow us to save it.
Read more: 13 Irritating Selfies Pakistani Girls Take on Eid
We are hoping the bugs get fixed soon so that we are able to enjoy more than duckface selfies and sheer khurma pictures this Eid. In the meanwhile, see some of the velfies created by Indian celebrities.
Here is another #velfie tribute to Marlon Brando from Godfather. Scene where he sees bullet ridden body of Sunny.:) pic.twitter.com/BzxeYXRgSb

— Anupam Kher (@AnupamPkher) July 1, 2015
Loved this dialogue from @TheGabbarIsBack! Participate in #GabbarVelfie contest and share your velfies now! pic.twitter.com/97ftMaAZlR — Akshay Kumar (@akshaykumar) April 28, 2015