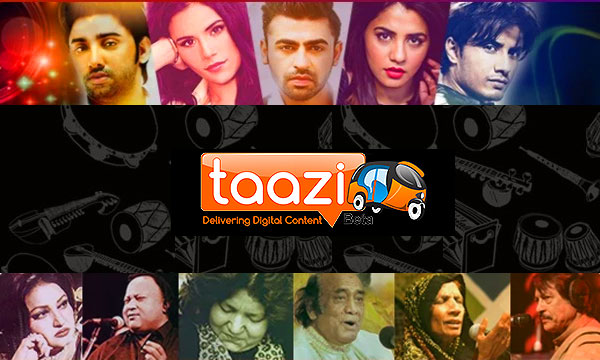 Haroon Rashid, the genius producer of the popular series, Burka Avenger, has launched Taazi.com – the first and only authorized music website.
Haroon Rashid got fame for creating Pakistan's first animated series called Burka Avenger that won many multiple awards on the silver screen. Taazi is a portal that is first of its kind in Pakistan providing music to people and also bringing out royalties to the artist it will feature and their work.  The beta version of Taazi was already in operation for over a year, but the official launch took place this week in Lahore. Many well-known artists and celebrities attended the launch.
Also Read: Burka Avenger Animated Movie to Hit Screen Soon
According to Haroon, "Taazi currently have more than 100,000 songs and 2,000 registered artists but we want to make this platform bigger by helping many more artists to launch.   The musical tribute to the victim of APS attack, 'Urein Ge' was also launched via Taazi by Ali Zafar. Ali also wrote to his fans to use Taazi "play your part by downloading the song responsibly – through the mentioned link of Taazi.com and iTunes. They have collaborated to send all profits earned towards the cause."
In a country like Pakistan where music Industry is still on a developing phase and with lack of industrial, technological and government support, there have been glitches in communication between musicians and their fans. Through Taazi, the venture believes that it will be able to make the bridge and fill the gap.
Although there are many other platforms through which artists can interact with their audience such as the digital route which includes Soundcloud, YouTube. These websites have not succeeded in Pakistan many reasons like unreliable payment methods, different social conditions and close to a 136 million phone users.
Keeping in mind all the loopholes, Taazi has come up with a proper billing system so that mobile phone users can access music easily. With the help of Mobilink, Telenor and Ufone, the local telecom giants, the website is integrated with them along with PayPal for its international customers.
Revenues of the website are divided in the ratio of 70:30. 70 percent of revenue will be paid to the artist whereas the 30 percent of the revenue generated will be retained.
Haroon's friends and family were present at the launch for the support of his venture. Ali Azmat, a well-known Pakistani musician praised the initiative taken by Taazi and said; "It is a website by an artist, for the artists". Many Celebrities expressed their views and appreciated what Taazi aims to do. Adnan Dhool said, "When we first started, we had no idea an online platform, where artists could make money, could ever be possible."
The beta version of Taazi.com is still in progress to provide an easy-to-use website forum, but its confusing interface and poor marketing can be a hindrance. Haroon is determined to take Taazi to great heights. A spate launching ceremony for Taazi will take place in Karachi and Islamabad soon.