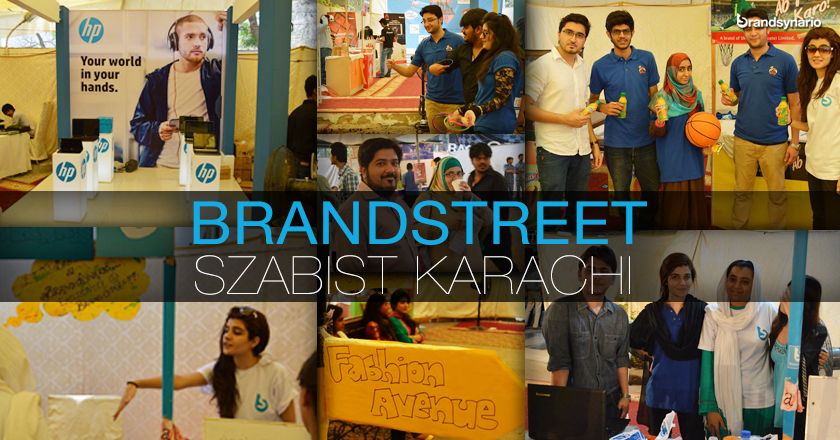 The BA-BS class of SZABIST, affiliated with University Of South Wales London, organized fun filled and creativeBTL activities for 17 mega brands under the event called "SZABIST BRAND STREET" on their campus on April 5th 2014  at  Szabist, Clifton.
The event was crowded from 9 a.m to 9 p.m with visitors, students, corporate guests and faculty members who took great interest in these entertaining activities planned by the marketing management students. On entering the beautifully decorated brand street one had to decide where to set their eyes first? At HP's elite laptop displays or Osaka's shimmering stall, or Huwawei's latest range of smart phones. 
Searle vitamin water's stall where people were found doing crunches and push-ups to win free giveaways. Cool & Cool and P&G engaged brands in beauty and hygiene related activities while River Wood café and 14th Street Pizza fed the excited and hungry crowd. While Icy IGLOO and chilled Fruit-o helped the youngsters beat the heat of the day.
Bonanza and Lark & Finch attracted youth to the Fashion Avenue in the Brand Street with the colorful display of their products and catalogues. The Food Panda mascot startled many as it moved about in the crowd to bring the brand to life.
The best part was that all these brands were youth oriented and keeping that in mind the students planned activities which would captivate their target market's attention the most and certainly they did it. The event proved to be a mega hit with people coming from corporate sector as well to spotthese passionate students conducting brand activations for such eminent brands. 
Brandsynario being this event's exclusive digital media partner provided full time digital coverage and participated as one of the brands with a very number of footfalls.
Ms.Ayesha Latif, the meticulous teacher under whom these students turned their course project into the event of the semester said that it was all because of the hard work of the students and cooperation of these brands that this event turned out to be so successful.