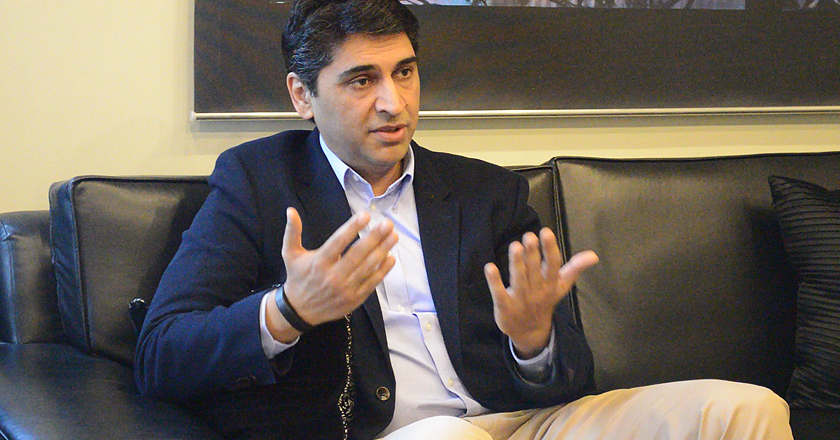 KARACHI, 25th December 2014: Synergy Group of companies, Pakistan invited Mr. Sabir Sami, Managing Director of Yum! Restaurants, Turkey for an interactive experience sharing session with Synergy personnel at the Synergy Head Office, Karachi.
Speaking on the occasion Mr. Sami touch base on his 26 years of international and local experiences with an array of leading organizations in the corporate world. He shared with the audience his association with Synergy Group since its inception and commended Synergy's expansion into a company which now provides 360 degree communication services to its clients.
Responding to questions Mr. Sami spoke with eloquence on topics like organizational management and team building. Quoting real life examples from his own experiences he explained how organizations and individuals should set priorities for business development to personal growth.
He mentioned that the most important things for all to remember and understand especially for anyone who is associated with any organization are the power of the people, victim vs leadership mindset, effective management of time and preventive maintenance.
See Brandsynario's exclusive interview with the Mr. Sami here:
Before the session, he was briefed by the senior management team of Synergy about the company and was also interviewed by the online publishing portal, Brandsynario.
Mr. Sami has worked with some of the leading FMCG companies and has been part of the YUM! Restaurants team since 2009. He moved to Turkey after dedicating his time with the organization in its Canada office as General Manager for 4 years. Prior to joining YUM! Restaurants he has worked with Reckitt Benckiser, Coca-Cola, and Procter & Gamble.
Mr. Sami is also a philanthropist and supports the Latif Kapadia Memorial Welfare Trust in Pakistan for its Health and Education projects.
Synergy Group of Companies is a renowned name in the fields of media, marketing and communications. Synergy has offices in Karachi, Lahore and Islamabad and provide its professional services to major local and international organizations in Pakistan
The event was covered on the official social media platforms of all business units of Synergy Group, with the official hash-tag of #SynergySessions.
Below is the complete session video:
Sabir Sami shares about his professional life and how he has achieved his targets. Moreover, he has also spoken about 'Building Brands' in terms of successes and failures.
Sabir Sami talks about three main concepts which he tries to teach to people and according to him if one can understand and grasp these 3 concepts then success is not so far to achieve then, no matter what you do in life. The three concepts include: The power of people, Victom mind set VS LEadership Mind set and the last but not the least, Time Management.
Sabir Sami talks about his personal experience and encourages everybody to build knowledge about the work you do being leaders so the next time if any of your junior asks a question from you, you can teach them by guiding their thinking and not your thinking . He further emphasizes on this statement 'Your job as a leader or manager is not to tell them but to teach them'.
Rate his session on a scale of 0 to 10 in the comment section below.