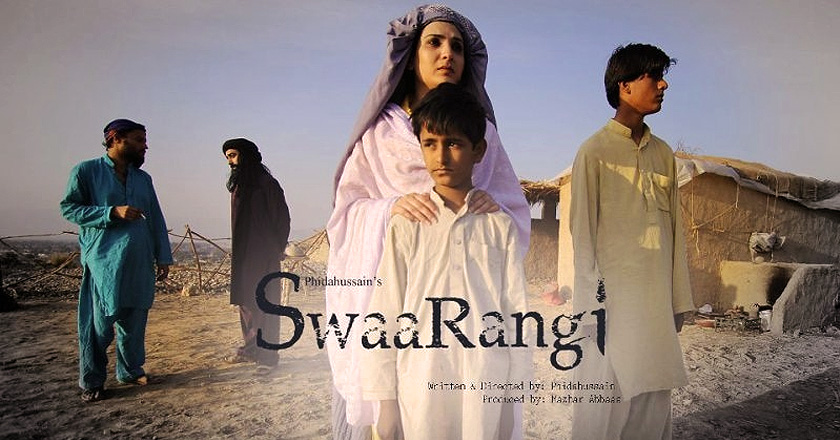 After a hiatus of eight years, Lollywood veteran actress Resham has risen again to make a cinematic comeback in an upcoming, reality-based movie Swaarangi – The Melting Embers.
Watch the trailer below:
[iframe id="https://player.vimeo.com/video/133877937″]
With Phida Hussain as the writer/director and Mazhar Abbas as the producer, the cast besides Resham includes Ayub Khosa, Naveed Akbar, Waseem Manzoor, Zulfiqar Gullshahi, Aftab Nisar, Hamza Mushtaq, Shahzaib Johar.
Set in the dusty outskirts and rustic rural areas of Mianwali city, the commercial project Swaarangi exposes the how the vile issue of poverty and drug addiction destroys homes and tears families apart.
"It's not just one individual who is being affected, along with his family and friends; the story is universal," says the director Mazhar Abbas in an interview to Express Tribune.
Resham, donned in an entirely new avatar, plays the role of a struggling mother Saima, married to the heroin addict Jamal played by Naveed Akbar.
[fb_embed_post href="https://www.facebook.com/Swaarangi/videos/937112709690045//" width="550″/]
The story's villain appears to be the dark and dangerous Zaryaab, played by Waseem Manzoor, who ensures Jamal never comes out of his depraved state. Battling with ordeals of life and the societal evils for the sake of her children, Saima sticks with her husband like a loyal wife.
The twist in the tale arises when Jamal goes to the extreme of selling his children to attain money to quench his uncontrollable thirst for drugs. 
While Mianwali is famous for its cases of drug addiction, Swaarangi unveils just one, real heartbreaking reflection of a family's survival in the midst of societal evils. Though no teaser or trailer of the movie has yet been released, it is all set to hit the cinemas this year on 28th August.
However, Swaarangi's promotional song by Sami Khan "So Jaa" has been released, providing a sneak peak to the life of a drug addict amidst the dusky terrains and hilly tracks of Mianwali. Watch the video below:
[fb_embed_post href="https://www.facebook.com/Swaarangi/videos/574789892588997//" width="550″/]