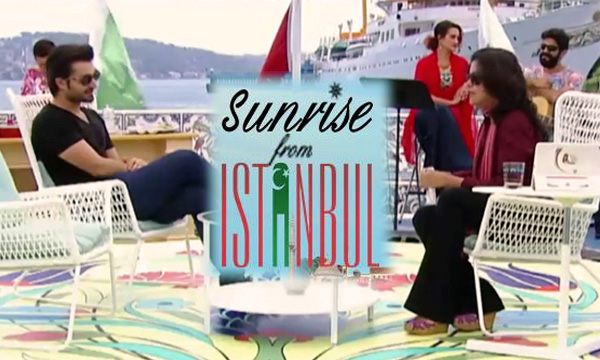 Sunrise From Istanbul has set some new trends for morning shows. The morning show which aired on See TV has captured the audience through its innovative segments and unique format. From the beautiful ambiance through ferry to Ceren Kartal songs, Turkish recipes and Dubsmashes on its Facebook page, everything is outstanding.
Although the show is not streamed live, it is way better than the morning shows celebrating weddings and baby showers these days.
Here are eight best moments from Sunrise from Istanbul.
1. Imran Abbas showed off his singing chops
We never knew Imran Abbas had such an incredible voice. Actors showing off their singing ability is the in thing, but the handsome hunk surprised us by singing 'Tere bhigey badan ki khushboo se' live, without any sound effects. It is a pleasure to know that the actor also happens to be a good singer.
Video:
[dailymotion id="x38zf2d"]
2. Sheikh Rasheed's Appearance
A witty conversation between Pakistani politician Sheikh Rashid Ahmed and host Maria Wasti was worth watching indeed.
[fb_embed_post href="https://www.facebook.com/sunrisefromistanbul/photos/a.911249398957469.1073741829.837002529715490/922473067835102/?type=3/" width="550″/]
3. Samina Ahmed rapid fire round
If someone duct taped your mouth and asks you to speak, you might get worried but Samina Ahmed knows how to answer whimsical questions differently and spontaneously. The actress-cum-host restricted her from giving ordinary answers, but the legendary star didn't fail to amuse us.
Video:
[fb_embed_post href="https://www.facebook.com/seetvpakistan/videos/1634598220117342//" width="550″/]
4. Faysal Quraishi mimicry
Faysal Quraishi has the talent, we know. He is not only an iconic actor but a very quirky mimicker. The actor-producer imitated Imran Khan and Pervez Musharraf but stole the show with Aijaz Aslam's mimicry. The two bantered about Aijaz Aslam and also suggested that 'qanoon k hath' should be as long as 'Aijaz k hath.'
Video:
[dailymotion id="x3a1vtd"]
5. Atiqa and Samar's love story
Who is not interested in listening sweet love stories? Atiqa Odho and Samar Ali Khan were invited on the Sunrise from Istanbul where the duo shared their love story and how they got hitched. Teasing his life partner playfully, Samar said he was blown away with a chocolate.
Video:
[dailymotion id="x3b6pah"]
6. Hamza Ali Abbasi's love for sleeping
How long can you sleep? 12 hours, 15 hours…? No matter how long you can, you cannot beat Hamza Ali Abbasi if a sleeping contest is held. The 31-year-old actor told Maria Wasti that he loves to sleep and can snooze up to 30 hours.
Video:
[dailymotion id="x3aa503″]
7. Noman Ijaz's Flying Cap
Be conscious about your dressing when you are on a ferry. Noman Ijaz came to Sunrise from Istanbul in black pant and jacket and a white cap. A gust of wind flew the white cap off his head, but he managed to get hold of it somehow.
Video:
[dailymotion id="x3b6q57″]
8. Fahad Mustafa's message to Faysal Quraishi
Fahad Mustafa wrote a message for Faysal Quraishi. When the actor came on the show and opened the bottle message Fahad left for him, he laughed. The message said, "Faysal Bhai, Dates de do please. Love, Fahad."
Video:
[dailymotion id="x3a1x5l"]
Do you like this post? Let us know in the comments below!