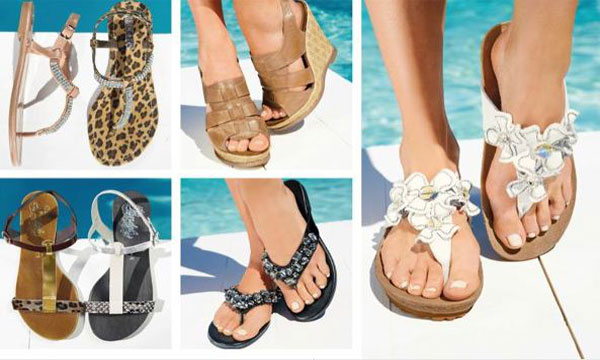 As thoughts turn to summer getaways, a seasonal wardrobe update is often in store. As well as a killer swimsuit and chic lightweight dresses, it's important to pick the right footwear to avoid being caught out once you arrive. But that's no reason to over-pack! Try to stick to two or three pairs of shoes suitable for your chosen destination. Here's a look at some of the shoes worth slipping into your suitcase for different vacation locations.
Once the holiday is booked, it's time to start thinking about the clothes and accessories you'll need to pack when the big day comes. Try to travel light this season, and avoid weighing yourself down with unnecessary pairs of shoes that simply serve to use up your baggage allowance.
Barcelona, Porto, Athens
The Catalonian capital will be one of Europe's hottest destinations this summer. Fashionistas heading to the beaches in big cities, or a stone's throw from European capitals, should pick leather or leather-effect sandals for a stylish yet laid-back look. All colors and prints are welcome, as are lamé metallics and detail like studs, sequins and other embellishments.
Loads of brands have these kinds of shoes out for summer 2016. Hush Puppies has outed its "Montara Gili" sandal in several shades this season, including royal blue, one of the on-trend shades for spring/summer 2016 (€85), and Kickers has its "Newstyle" collection of leather sandals with woven mosaic-style detailing (€69). The Méduse brand, known for its iconic molded PVC jelly shoes, has the "Bora" sandal out this year. This new model has a leather sole and translucent, colored or matte plastic straps in shades such as black, bright pink, peach glitter, silver glitter, and more. (€54).
Brazil's iconic flip-flops
The white sandy beaches of Brazil are synonymous with relaxation and serious partying. What could be better for kicking back and going with the flow than a simple pair of flip-flops for daytime and nighttime looks. This plastic beach footwear has a long-standing and special relationship with the land of capoeira and samba.
A host of Brazilian footwear brands specialize in the iconic toe-bar shoes, such as Havaianas and Ipanema, which are famous worldwide. Havaianas has several collections out this season, including the new "You Metallic" flip-flop, which has a slim sole and a thong strap finished in metallic leather. They're available in gold, pink, dark brown and silver (€30). Ipanema has several styles to choose from, including the "Charm III Sandal," embellished with stylish and fashionable details and available in several colors, including pink, beige and black (€27.50).
Cruises and sailor chic
You don't have to head to a sandy beach to enjoy a sun-drenched summer getaway or sip cocktails by the sea. For those setting sail on a cruise or visiting maritime destinations, such as Brittany in Northern France, certain brands have gone back to basics by revisiting iconic retro footwear styles like espadrilles and slippers. These revamped styles have been popular among fashionistas for several seasons already and are now available in several colors and prints.
Chatelles, for example, is a chic shoe brand specializing in top-of-the-range slipper pumps. It has several versions of its flagship shoe out for summer, including the "Malo," with a ruby red and white sailor striped canvas upper, a natural leather insole and a waterproof outer sole (€190).
Style Trend Alert: Peshawari Chappals Make a Comeback with Modern Twist
Specialist beachwear brand Seafolly has its own a fashionable take on espadrilles with the"Layla Sling," featuring a striped toe cap and studded leather straps (€58).
There are, however, some types of footwear that will take you anywhere this summer. Sneakers and stilettos can be slipped into any suitcase for days out walking and stylish summer nights. In fact, these must-have shoe styles are year-long wardrobe essentials for any fashionista.