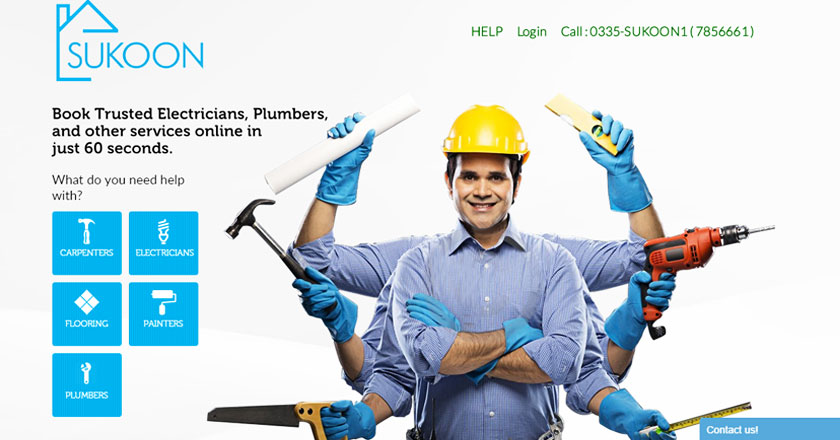 E-commerce business is booming in Pakistan, from clothes to pets – Pakistanis now have the luxury to order a wide range of products and services online.
Taking the online industry a step further is Sukoon.com.pk – an online web portal that provides job opportunities for blue-collar workers in Pakistan while at the same time providing the masses a luxury to find Electricians, Plumbers, Masons, Carpenters and Painters online.
A project of two friend and technopreneurs, 'Sukoon.com.pk' aims to provide a one-stop solution for electrical, plumbing and other home service needs. Launched aptly on Labour Day 2015, the online marketplace for workers is sleek and easier to navigate.
Dealing with the issue of security, the co-founder, Shoaib Iqbal said, "Only those who pass through our stringent induction process become a part of the Sukoon workforce. However, induction is comparatively easier than surviving in our pool as we've set very high service standards for all our workers".
The portal not only aims to provide a service to the people but also acts as a consistent source of income for labors whilst making them aware of online opportunities and financial banking.
The startup is currently incubated at The Nest i/o, a technology incubator launched by P@SHA, supported by Google for Entrepreneurs, Samsung and The US Government.