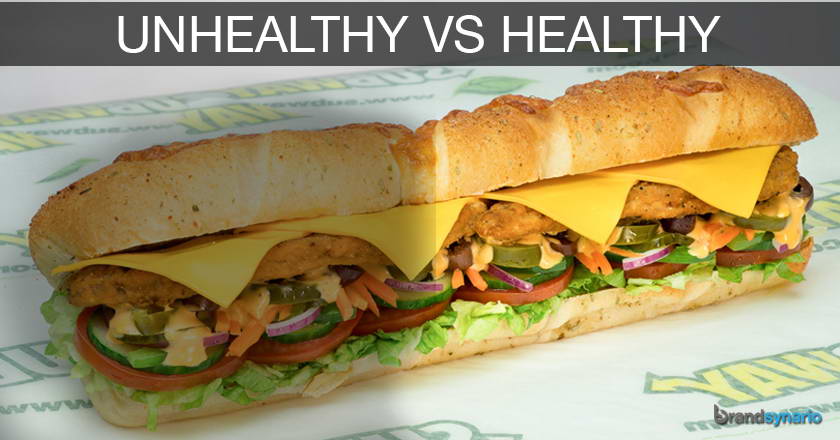 With its too-good-to-be-true tagline, Subway has become Pakistan's much loved fast-food chain; it has easily conquered the hearts of the young and adults alike who apparently consider it as a healthy alternative to fast-food.
But is it really as healthy, fresh and real as we are told?
Since long, Subway Pakistan Products have weaved a "health halo" in our minds but like many other fast food chains, there is a whole lot of difference between perceptions and reality.
Let's take a look at some facts and see if Subway Pakistan is really a healthy choice or not?
REASONS IT'S NOT HEALTHY
1. Calories that Kill
Subway has no magical low-calorie buns or slimming mayonnaise that can make you thinner. Fast food with fewer calories will remain fast food, and surely won't help you reduce some big inches.
2. "Eat Fresh" is a Big Fat Lie
Contrary to what it claims, the ingredients at Subway are not entirely fresh. The bread, meat and vegetables are all processed, frozen and packaged, also including some horribly named chemicals like Ammonium Sulfate and Sodium Stearoyl Lactylate.
3. Shocking Rate of Sodium
All fast food chains have high Sodium in their items and so does Subway. Research shows that there is around 1,500 mg of sodium in the Subway BMT, which is quite alarming.
4. It's as Bad as Other Greasy Food, Maybe Even More.
The university of California, in a study, has marked that "the Subway as unhealthy as its rival McDonald's". Young people consume an average of 1,038 calories at McDonald's and an average of 955 calories at Subway- a very insignificant statistical variance.
5. You Won't Want Your Bread With Yoga Mat and Shoe Rubber
You might not know, but Subway since long has been putting a deadly plastic chemical named "azodiacarbonamide" in its bread, used in making shoes and a yoga mat. Fortunately, protests all around the world caused the ingredient to be pulled down by 5th Feb 2014.
6. You Need at Least 3 of Them to Fill You Up
For an ultimate foodie and fast food devotee, just a SUB will never be enough. You need to order at least three of them to satisfy your appetite. Well, it's true that the 12-inch subs are not the exact size ever. And that is not fair at all.
REASONS IT'S HEALTHY
1. Lose Weight the "Sub-Way"

The biggest evidence that suggests that Subway is a dieter's best pal is not a chemical or a nutrient, but a man named Jared Fogle.
Known as the Subway guy, Jared lost around 245 pounds in just a year by exercising and living on Subway sandwiches, now inspiring millions to lose weight.
2. Know What You Eat
While other fast food chains might keep you in shadow, Subway lets you know exactly what you are eating by letting you know the calorie and nutrition count about your order.
3. Kick That Fat Off
If you really are not interested in all the nutritional information, then Subway even has some low-fat sandwiches for you to relish.
4. For the Love of Veggies
Subway surely loves vegetables and has an array of no-meat options available for veggie lovers out there.
5. Smart Select Your Sub Sandwich
Nowhere can you get a perfect sandwich just as you like, but at Subway. Request the right amount of creamy sauces, toppings and other ingredients and Voila: Your healthy sub is ready.
6. Say Bye to Sodium
Although many of the sandwiches may include a high amount of sodium, but you can reduce its intake in your Sub by watching out on toppings and cheese.
7. Mini-Subs: Small but Yummy
If you are losing weight, you can control your mean size via savoring on Subway's mini sandwiches.
The Bottom Line
Let's face it, even if Subway offers the healthiest of all meals in the planet, it will still be no match to our Desi Dishes. No Sub Sandwich in this world can ever come near to an irresistible plate of hot Chicken Biryani or mouth-melting Nihari with fluffy tandoori Nans.
Robust, spicy and utterly scrumptious, the divinity of Desi food is what makes it much more worth it than any cheesy pizza, veggie sandwich or a crispy burger.