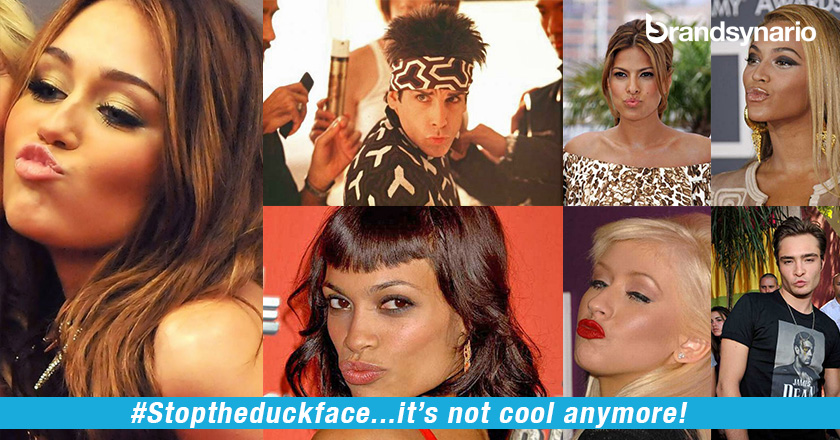 By Zoya Anwer
Pursed lips? No. 
Pout? No. 
Pursed and Pout together? Perfection mastered. 
Confused at the pose I am trying to hint? Let me tell this in the easiest way possible, I am referring to the very difficult but viral art of posing with a "Duck Face." 
HOW IT STARTED
There was a time when girls would be asked to smile politely in photographs to show respect and a slight reserve.
Later, girls could laugh and smile when being photographed, which was considered a more liberated approach to show happiness. With the birth of duck faced pose, girls realized that there was much more to posing in a selfie than a simple smile.
While this expression got viral in the foregone years, its true origins lie in the time when no one was smart enough to associate it with the duck, which a person looks like after doing it.
The gorgeous Marilyn Monroe was perhaps the first female star to bring this innovative expression when she posed in this manner for the first time.
CELEBRITIES AND THEIR DUCK FACED LOOKS
In the cyber world, this came to be known as MySpace face and many people were seen posing with this duck face.  We also saw leading celebrities pulling a duck face on the red carpet, photo shoots and of course "Twitter" selfies.
Famous singers like Miley Cyrus and Beyonce do not hesitate to "push their lips together in a combination of a pout and a pucker" and are frequently seen making the duck face.
While Christina Aguilera and Jessie J do pull it off with a degree of hotness, it seems that Nicki Minaj does not know any other way of posing before a camera other than  with a duck face!
Even actors do not duck from the duck face; like Eva Mendes, Jennifer Anniston do not refrain from pouting all the way. Venessa Hudgens is famous for her "cute" duck face which makes one view the pose from various angles. Kim Kardashian is not far behind in posing this way and in fact ads some boldness to it.
To my surprise, even some male stars prefer making a duck face, the Television actor, Ed Westwick from the famous Teen drama, Gossip Girl did so too!
THE TEENAGE OBSESSION WITH DUCK FACED POSES
Since so many celebrities follow this trend, it has now become the ultimate pose for all teenage girls and it is no surprise that our Faceebook walls and Twitter feeds are filled with duck faced selfies.
The million dollar question that comes to mind is: What does the duck face represent? 
Does it enhance the fullness of the lips, or is it a way to (just) look cute or is it a way  to cover something up, let's say a beautiful smile? 
One thing for sure is that no one, I repeat, no one can carry this duck face better than Angelina Jolie, whose naturally pouty lips give her an absolutely natural duck faced look.
#STOPTHEDUCKFACELOOK
The most comical part is that people have become so fed up with this extra pouted look that many started an "anti-duck face" campaign to curb it.  A Vine video  shows an ultra adorable little girl warding off the duck face and has appropriately summed up the need to stop it.
THE SPARROW FACE IS NEXT
After successful viral fever, the duck face is gradually being replaced by another new pose called "Sparrow Face".
Celebrities like Miley Cyrus, Lindsay Lohan, Ashley Tisdale and the other Kardashian's sister, Kendall Jenner are already experimenting with this pose which is apparently done by opening eyes really wide ad pursing the lips like a tiny bird that really wants to be fed. 
Well, with all these crazy poses getting amazing viral reach, it seems our new source of inspiration are birds. let's hope that our celebrities keep their source of inspiration to poses only and we dont get to see bird-like clothes on the red carpets next season!