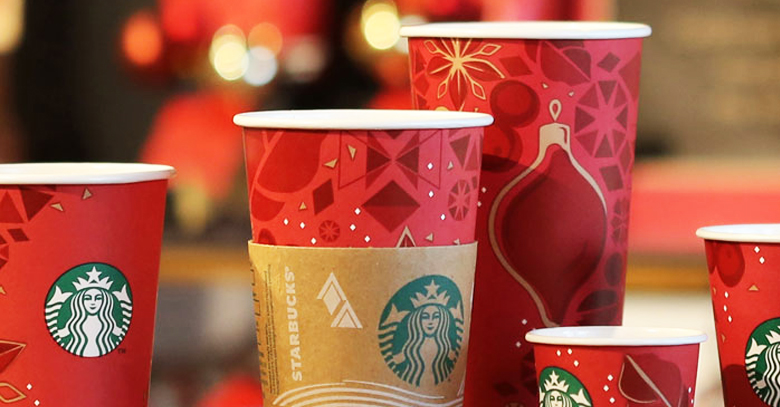 By Javeria Farooq
Starbucks is nothing but punctual, as the coffee chain released their annual holiday cups one fine, wintry morning of November 1st, 2013. This year, Starbucks has chosen to create an entirely new holiday design language that is centered on the best gift Starbucks could give: Coffee. 
The red cups are out which not-so-subtly reminds people that Christmas holiday season is just round the corner. But this time, they made a few changes. Gone are any of the seasonal characters that have been the focus of the past three years of Starbucks holiday packaging.
Instead of the usual holiday characters, Starbucks is trying to accommodate coffee into Christmas – and will probably succeed in its mission. The specialty coffee and hot drinks, which are only available during the holiday season, are in stores now with a range of flavours like peppermint mocha, ginger bread, eggnog and caramel brulee lattes.
But there is much more to these cups than just the red tones and fine illustrations; it's something every brand would want to achieve and that is emotional connection.
Starbucks is trying to connect emotionally with its store partners (employees) who open that first box of the red cups and start using them that first day, realizing that holidays are near. Then there are the customers who feel the same emotional connection.
"Oh, the red cups are at Starbucks!' It's really special and all of us in the studio feel privileged to do the work that can create such an emotional moment and connection in our stores between our partners and our customers," Terry Davenport Senior Vice President, Global Brand and creative Studio at Starbucks said, depicting the excitement caused by Starbuck's seasonal move.
"We now have sixteen years of red cups," Davenport said while commenting on the history of the initiative.
Instagram and Twitter feeds are already bombarded with pictures of the delightful red cups in all their holiday glory.