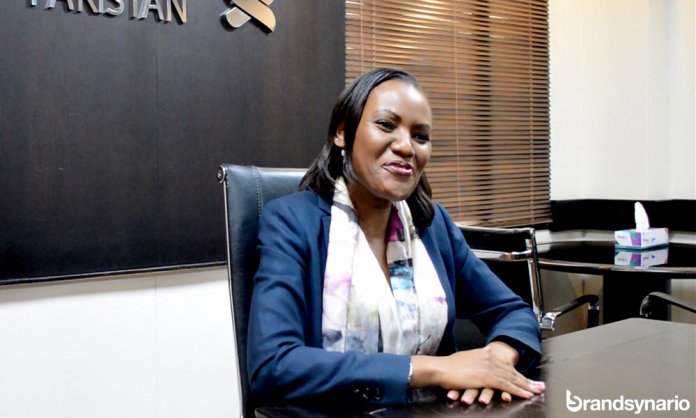 Leaders are born, I am very clear about this theory of mine ", states Olga Arara-Kimani. Inspiring and eloquent, she is currently the Regional Head of Corporate Affairs and Brand and marketing for Africa and the Middle East (MENA including Pakistan), at the Standard Chartered Bank.
With a career spanning over 22 years, she was the first woman Microsoft Certified Engineer from Kenya and was listed in Forbes as one of the Top 20 Power Women in Africa.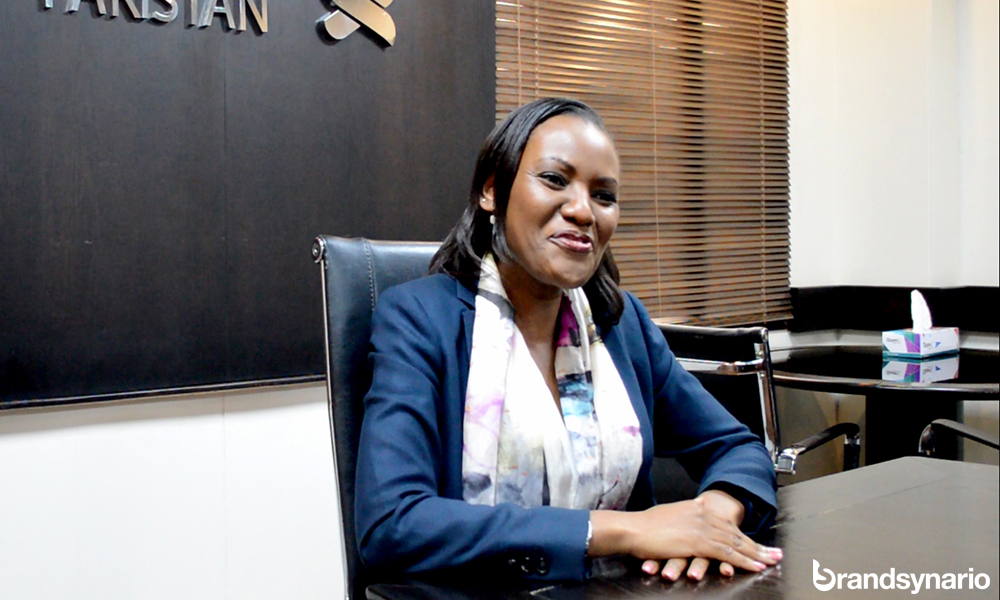 A DIGITAL VISION
She describes the bank as "a digital company posing as a bank" and talks about how when she joined in 2014, digitization was a big agenda. She was given the challenge, which she states at the time included changing the mindset of those customers who were used to the traditional way of doing banking and converting them to online transactions. Africa and the Middle East are particularly more stimulating as they are emerging markets where technological advancements take a longer time to become mainstream.
In Pakistan, Standard Chartered is the oldest and largest international bank operating with an aim to become " Digital by Design by 2020 " in the words of Shehzad Dada, CEO Standard Charted Pakistan.
Olga has definitely brought into the bank, her brand of energy, direction, and innovation. Some of the most salient features include:
• Previously she mentions that digital marketing was being done but in a more 'traditional way '. Now instead of 10 %, of the marketing budget, digital has grown to 30 % of the budget.
• The bank has become more active on social media platforms as she feels it is a strong way to target potential customers.
• The Standard Chartered mobile application proved to be the most successful introduction. This app used for mobile banking also won the digital banking award over 6 markets.
GENDER DIVERSITY AND A MORE FLEXIBLE WORK ENVIRONMENT
Banking is considered to be more male dominated industry, however, Olga feels that she has never felt that to be a challenge as Standard Chartered is very much into gender diversity and positions are filled by those who are most capable of adding value to a particular post.
She manages her time between Dubai and Kenya where her family is based and feels strongly that women should be given flexible timings by organizations as they are in most cases the primary caregivers.
The bank has in fact recently launched flexi place and flexi time where you can choose your work hours and place. The bank provides the longest maternity leave of 5months. Now many companies are of the opinion that physical presence may not always be needed when in a digital world, work can be done remotely as well.
In all fairness, Olga feels the same practices should be extended to men if they are the primary caregivers in the family or have to look after the needs of aging parents.
COMMUNITY AND SOCIAL DEVELOPMENT
In Kenya, Standard Chartered Bank has partnered with a number of organizations to support and help in treating preventable blindness. It was noticed that in children below the age of 5 years, if they were treated in a timely manner, they could grow up to become productive members of the society as opposed to dependants, giving them a better quality of life.
In Pakistan, the bank has collaborated with LRBT, to provide medical services that can treat and prevent ailments of the eye.
Olga has served as the Country Manager for Google in Kenya, bringing with her some key learnings. With a passion for remodeling old cars which she inherits from her father to farming Milliard to participating in protecting and conserving wildlife in Kenya, she is an inspiring role model for her team. Click on the video below to learn about her management practices and workforce innovation and motivation.
Standard Chartered Bank Limited also recently launched a campaign called "No.1 Bank: Power your Ambitions" to bring to focus its recent achievements and reinforce its commitment to the Africa and Middle East (AME) region.
The bank has won a number of awards for its various products over a number of markets. The campaign gives a combined history showcasing the commitment of the bank towards regional development in the MENA region supported by strong digital capabilities.