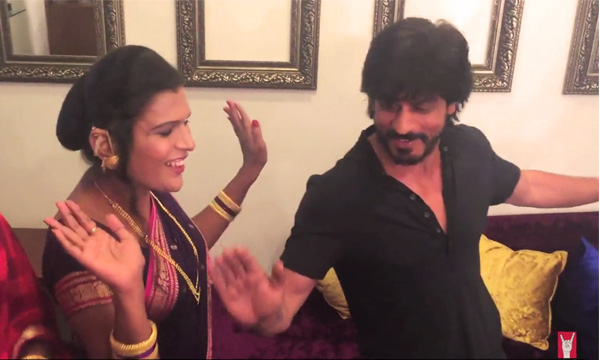 Shah Rukh Khan, the king of Bollywood is setting aside age old taboos and superstitions. King Khan met with India's first transgender band '6 Pack Band' at the trailer launch of Fan. 6 Pack Band members proved to be the ultimate fans of SRK as they sang 'Jabra Fan' for him.
And of course, SRK showed his appreciation by dancing to the steps of the song. It seems that SRK's fans will  stop at nothing and he seems to enjoy it.
Watch the video below:
.@The6PackBand had the perfect #Fan moment when they met @iamsrk! Watch the video to know more. @FanTheFilmhttps://t.co/ls2ssRlmEj

— Y Films (@Y_films) March 7, 2016
The band had requested for a meeting with SRK to give him their blessings along with a special message, said an official statement released by the production house.
The video is a befitting tribute to the transgender community. And SRK doesn't leave it at that. On International Women's Day, SRK tweeted this status about wanting to be a woman.
See the tweet below:
Often I wish I was a woman…then realise I don't have enough guts, talent,sense of sacrifice, selfless love or beauty to be one. Thk u girls.

— Shah Rukh Khan (@iamsrk) March 8, 2016
ShahRukh Khan's Fan, directed by Maneesh Sharma and produced by Aditya Chopra, is slated to release on April 15.