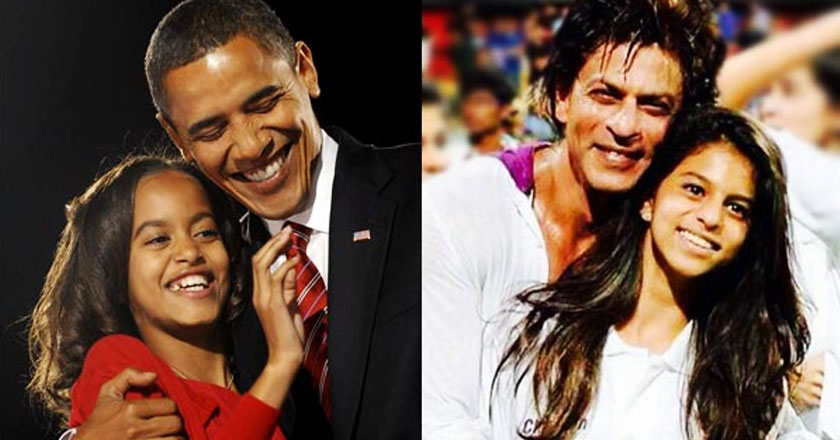 Ladies and Gentlemen,
We now announce the two coolest, caring and admired Dads of the world – American President, Barack Obama and Bollywood superstar, Shah Rukh Khan.
Father's Day is just around the corner and to celebrate the dads' day, a popular matrimony website Shaadi.com conducted an online survey with over 5,500 respondents to find out the most popular father.
According to the survey American President barack Obama and Bollywood actor Shah Rukh Khan appeared as the most admired dads.
Father of three kids, King Khan received 42.5 percent of the votes as 'India's Most Popular Father', followed by Sachin Tendulkar, who got 36.9 percent votes and Bollywood megastar Amitabh Bachchan, who received 20.6 percent votes.
The famous fathers of other nationalities were also voted by the women and according to the results 40.3 percent of them voted for Obama. The second most admired father was Will Smith by 31.4 percent of votes and then the former football ace David Beckham with 15.2 percent votes.
The respondents were also asked to vote for 'India's Most Admired Father-Daughter Relationship' and for the 'Most Admired Father-Son Relationship'.
For the 'Most Admired Father-Son Relationship', 33.4 percent Indian women voted for Rishi Kapoor and Ranbir Kapoor, followed by Amitabh and Abhishek Bachchan with 31.2 percent, Shah Rukh and Aryan 23.3 percent, and Sunil Gavaskar and Rohan Gavaskar 12.1 percent votes.
Shah Rukh and his daughter Suhana received the highest, 43.3 percent, votes for 'India's Most Admired Father-Daughter Relationship', Mahesh Bhatt and Alia Bhatt received 27.3 percent votes followed by  Prakash Padukone and Deepika Padukone with 17.2 percent and Anil Kapoor and Sonam Kapoor with 12.3 percent votes.
"The survey highlights that people adore and idolize celebrities who spend quality time with family despite their celebrity status," said Gourav Rakshit, chief operations officer, Shaadi.com.