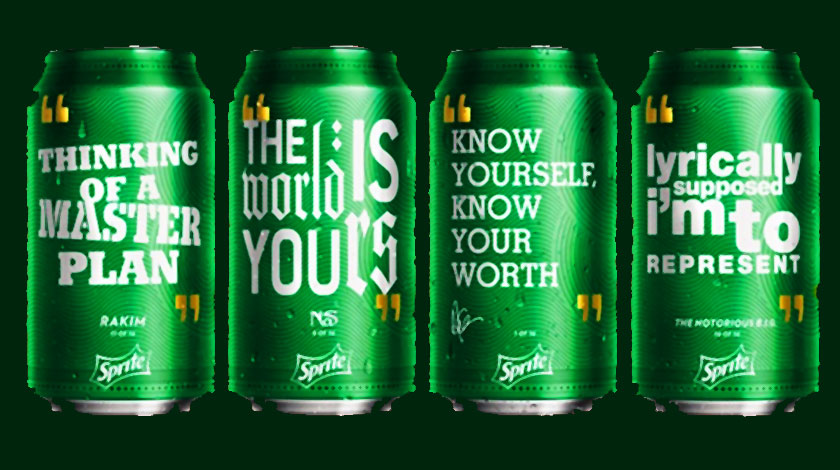 After the awesome response of Drake's commercial in 2014, Sprite is now locked and loaded to launch its rap printed cans.
The association of rap (somewhat the hip-hop style) with the brand dates back to 1986. Starting with a 'Kurtis Blow for Sprite' campaign, the company is now ready with an add-on. This summer Sprite is releasing 16 limited-edition cans, each designed with a unique inspirational rap verse.
The campaign will feature the famed and renowned artists including Drake, Nas, The Notorious B.I.G. and Rakim. According to a news release, these rappers were chosen because they are all "celebrated for honest self-expression and being true to themselves".
The multi-talented, king of rappers, Nasir bin Olu Dara Jones, popularly known as NAS, described his enthusiasm for the project by saying, "Legacy means everything to me.  When I wrote these lyrics, I never imagined my fans would someday have the opportunity to enjoy a can of Sprite and experience my art in a totally original way."
Have a look at the soon to be seen lyrics on your sprite cans!
'Know yourself, know your worth' from '0 to 100' by Drake
'I'm the rookie and the vet' from '0 to 100' by Drake
'Man, they treat me like a legend' from 'Over' by Drake
'Started from the bottom' from 'Started from the bottom' by Drake
'On a mission try to shift the culture' from ' Tuscan Leather' by Drake
'Living longevity to the destiny' from 'If I ruled the world' by Nas
'Poetry's deep I never fell' from 'It Ain't Hard to Tell' by Nas
'It's truth, that I am you, and I am proof' from 'My Generation' by Nas
'The world is yours' from 'The world is yours' by Nas
'Live it and love it' from 'Trust' by Nas
'Self-esteem makes me Super, Superb and Supreme' from 'follow the leader' by Rakim
'Cool, 'cause I don't get upset' from 'Microphone Flend' by Rakim
'Thinking of a master plan' from 'Paid in full' by Rakim
'Speak the truth' from 'Waiting for word to End' by Rakim
'My mental windows refuse to close' from  'Waiting for word to End' by Rakim
'Lyrically I'm supposed to represent' from 'One from Chance' by The Notorious B.I.G
Sprite is all ready to spread the high spirits!
Best of luck to the Sprite Team