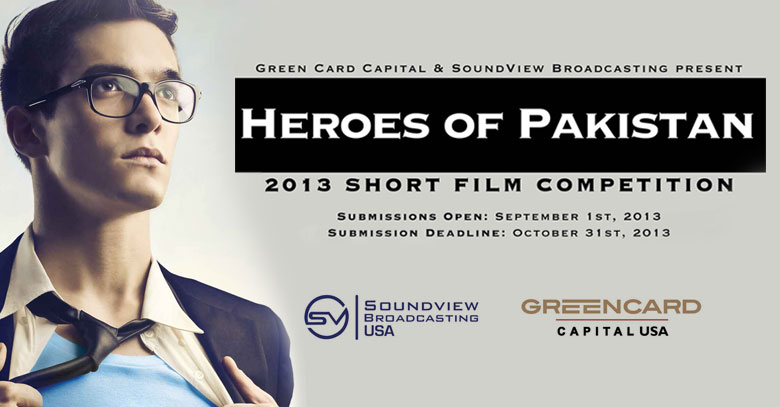 With so much of negativity and criticisms surrounding Pakistan, we seldom get to witness the innocence, love and purity of its natives. Their stories of bravery, struggle and triumph somehow gets overshadowed as the nation gets defamed for terrorism and corruption every now and then.
In such critical times, initiatives like "Heroes of Pakistan" tend to be the exact remedy to combat against the country's not-so-positive image.
Heroes of Pakistan is a co-creation of SoundView Broadcasting, USA's leading broadcaster and distributor of international television channels and consulting and investment firm, Green Card Capital. The mutual project is a short film competition, scheduled to commence from September 1, 2013.
The competition welcomes aspiring Pakistani film-makers of all ages to submit one-minute to five-minute video documentary on the theme of "No Pain, No Gain".
The main idea behind the contest is to unveil the story of success, courage and hope of a Pakistani to the world. Participants are encouraged to exhibit in their films the determination and zeal of any Pakistani individual, they believe is an inspiration to the whole country.
SoundView Broadcasting and Green Card Capital celebrated the launch ceremony of the competition on August 28th at Marriot Hotel, Karachi. The prominent attendees of the event were Abbas Hashmi, CEO, Green Card Capital, Ateeq Ur Rehman Member of Karachi Chamber of Commerce and Industry and Shireen Naqvi, CEO School of Leadership.
 "Heroes are not only sports stars or showbiz personalities. Heroes are the real-life people in your community such as your parents, teacher, friend or anyone around you," Abbas Hashmi said while addressing the press.
Both, Ateeq-ur-Rehaman and Shireen Naqvi congratulated Abbas Hashmi and wished for the success of such a initiative.
The three winners of the contest will be decided via a panel of international judges in December 2013, along with one winner selected via popular public choice.
The winner will get a one year contract with SoundView Broadcasting, while the runner-up will get a chance to avail an internship.
Monetary rewards have also been announced for the film-makers who win the contest. The person who comes first will get $1000, the second will receive $500 and $250 have been allotted for the third position.
SoundView Broadcasting has extended an open invitation to leading institutions of Pakistan to take part in the "Heroes of Pakistan" Competition and deadline for submission is October 31.
With the efforts of SoundView Broadcasting and Green Card Capital, this platform is bound to elevate and sort Pakistan's obscured image. Its about time such programs and projects should be organized in order to rekindle the lost identity of Pakistan and its people.