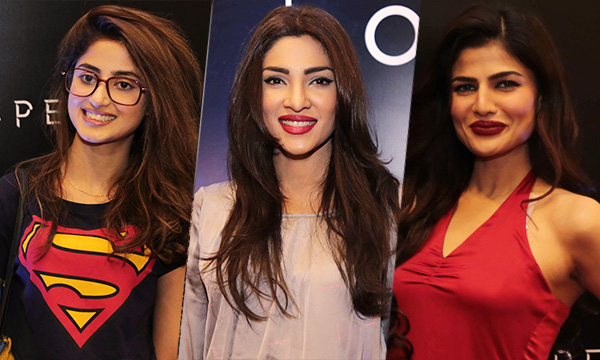 Spectre 007 is the 24th James Bond Film to have been produced by Eon Productions. With once again Daniel Craig playing James Bond while Christoph Walts plays Ernst Stravo Blofeld. The movie was directed by Sam Mendes making it his second bond film after Skyfall. With a budget of $300 million the movie has tied with Pirates of the Caribbean as the second most expensive film to ever be made.
Present at the event were several celebrities and socialites such as, Sana Fakhir, Komal Rizvi, Momal Shiekh, Sajal Ali, Feroze Khan, Qasim Ali, Zurain Imam, Nazleen Tariq, Raana Khan, Meera Ansari, Teepu Sharif, Nabila, Immo, Rizwan Beyg, Sammar Mehdi, Zahalay Sarhadi, Amir Anees, Muzna Ebrahim, Anisa Rashid Khan, Adnan Hussain, Hira Hussain, Nadia Hussain, Tehmina Khalid, Khalid Mir, Adnan Pardesy, Laika Hassan, Ayaz Anis, Nomi Ansari, Wasif Mohammad, Sonya Hussain, Sonya Khan, Humayoun Alamgir, Zohra Alam, Saira Kabeer, Ayesha Tammy Haq, Imran Kureshi, Siam Ali, Tapu Javery, Palwasha Yusuf, Alishba Yusuf, Obaid Shiekh, Rabab Masood, Asad Tareen, Nazia Malik, Farooq Mengal, Nadya Mistry, Asad Zaman, Nazneen Tariq, Danish Wakeel, Sohail Javed, Pomme Afzal, Sanam Agha, Rafia Rafeeq, Uroosa Siddiqui, Angie Marshal, Ronak Lakhani, Sana Ansari, Abbas Jafri, Nadir Toosy, Jaffer Hassan, Naeem Haq, Bilal Ashraf, Bilal Khan, Fauzia Aman, Gohar Rasheed amongst many others.
View the pictures below:
AM:PM is a luxury outlet store that hosts some of the most exquisite watches in Pakistan. Founded by Mr. Rameez Sattar C.E.O. Sonraj. Omega and Collectibles with AMPM premiered Spectre 007 at Nueplex Karachi with star-studded red carpet on 6th November 2015.
Hosting the glamorous red carpet was none other than the super model Fia Khan while red carpet models were Amna Babar, Sadaf Hamid and Abrar Khan dressed as the characters from Bond.
Wardrobes were by Aamna Aqueel and Humayoun Alamgir whereas hair and make up was by N-Pro and N-Gents. String media was the official agency whereas BB Events & PR was the official Event and PR partner.
Special thanks to Aamir Mazhar and Samra Muslim for their support.
"We are proud to be partners with Omega and delighted to hold the Spectre 007 Premiere in Karachi. Omega has always been present in the watch retail of Pakistan that only reflects their commitment and trust in our market and consumers. This is the first ever-grand event of Omega with Collectibles and we look forward to many more such activities in the future, in the end I would say that we are just proud of being a part of the Omega Family" says Mr Rameez Sattar.
Omega and Collectibles along with AM:PM also to took this opportunity to invite the children from Special Olympics Pakistan to come and enjoy this epic movie. Special Olympics helps Pakistan's intellectually challenged individuals gain confidence and develop their skills through Power of Sports