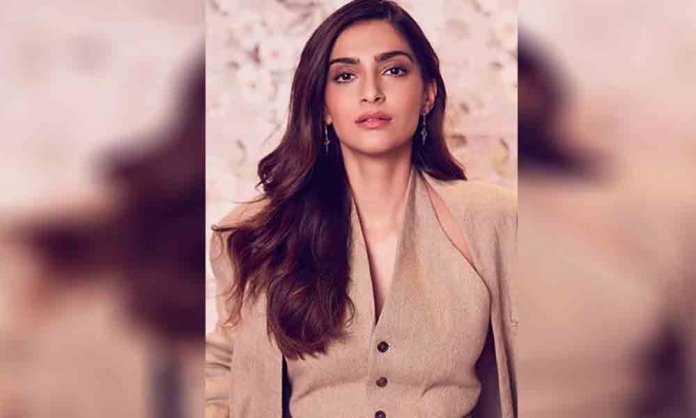 The Bollywood diva Sonam Kapoor has recently found herself in hot water in light of the recent Indo-Pak situation.
The star is receiving major backlash for promoting peace between the two nations and posting an anti-war statement on her social media account.
Ushna Shah Shuts Down Retired Indian Major With Savage Reply!
Earlier this morning, the 'Veere Di Wedding' actress took to her Instagram and expressed her view about the on-going tensions between India and Pakistan.
Sonam Kapoor Posted:
The average Indian has more in common with average Pakistan than he does with a Hindu fundamentalist who wants to bomb in the name of Ram and lynch minorities and rally in support of child rapists.
She further condemned war and wrote:
The cost of this extraordinary hatred between fundamentalists in both countries is eventually going to be paid by the ordinary citizens of both countries and the soldiers who are always first in line of a fire they did not ignite.
Have a look at his post! 
Unsurprisingly, stance in support of Pakistan and peace between the two nations started getting backlash from Indians.
Look at what people have to say!
Dear Sonam Kapoor,
The average actress as yourself has more in common with every girl on tik tok who calls herself an actress.

But, we still tolerate you with all your hate towards the country and it's culture that gives you a celeb status!
You, yourself is a fundamentalist!

— Perfect Errorist (@TheNitishaDixit) February 28, 2019
Ignore Sonam Kapoor. She is a moron. #BringBackAbhinandan

— Abhijeet (@abhijeet_garg) February 28, 2019
I m ready to leave my studies (MBBS) Join the war for my India
Than being a Sonam Kapoor
Anil Kapoor failed in instilling Desh bhakti in his daughter

— Brahmananda Das (@Brahman49846790) February 28, 2019
Why people giving so much footage to a failed 3rd class actress Sonam Kapoor?? This is what she wants. Ignore her pls.😡

— Vini 🇮🇳 (@VinitaTiwari9) February 28, 2019
She (sonam kapoor) is not getting any movie because of her poor acting. She have no other option to be in headlines. #SonamKapoor #CongressPakistanUnited

— Rahul Marwal (@marwalrahul_) February 28, 2019
Sonam Kapoor is one dumb woman. 🙄

— Tushar (@tushjain15) February 28, 2019
Never thought I did say it, but Swara Bhaskar > Sonam Kapoor.

Atleast Swara is not dumb, ATLEAST.

— NJ Views & Reviews🌟💥 (@Nilzrav) February 28, 2019
With major Bollywood bigwigs in support of the war, Sonam Kapoor surely had a view that made her stood out amongst the rest.
What are your thoughts about it? Let us know in the comments section below.
Armeena Rana Khan, Sanam Saeed Calls Out Priyanka Chopra for Promoting War
For more updates and details, stay tuned to Brandsynario.
The post was first published on Very Filmi.