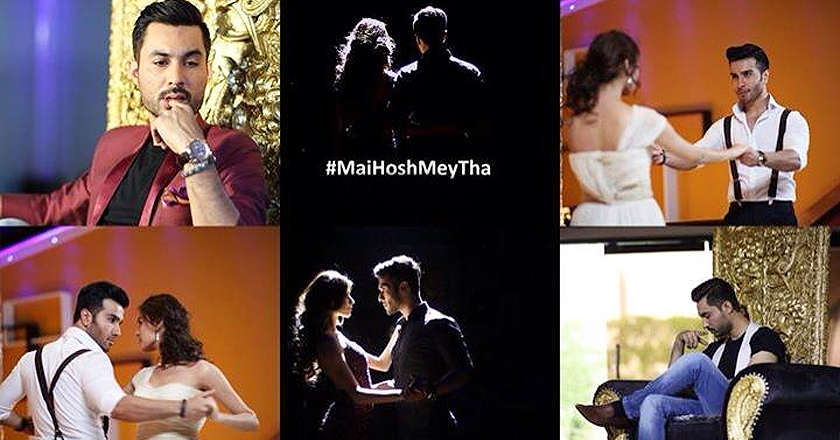 Singer Sohail Haider has released his official music video of the song 'Mai Hosh Mey Tha'.
The song is a revamped version of the original ghazal that was sung by Ustad Mehdi Hassan. Through this song, Haider has paid tribute to the world famous and legendary figure Ustad Mehdi Hassan known as the 'Shahan Shah-e-Ghazal' or 'King of Ghazal'.
The music and beat has been updated but retains the crucial elements of musical instruments used in ghazals to give a nostalgic and gloomy feeling.
Sohail made a sensible move not to try to match the 'haunting baritone' voice that was the defining feature of the legend. Instead, he uses his own tone to set the song relatively a bit lighter than what the Ustad sung.
The music has been composed by Aqeel Ahmed famed for Dil e Arzoo – OST 'Budnaseeb'. Rao Ayaz Shahzad has directed the music video.
The official music video after being released on Facebook has already garnered more than 20,000 views. It features the VJ turned model turned Actor Feroze Khan. Feroze Khan is the only brother to the showbiz sisters Humaima Malik and Dua Malik.  He is engaged to the top paid drama serial actress Sajjal Ali. Also, the female lead in the video is the well-recognized fashion model Sadaf Kanwal.
The video features the male lead depressed and reminiscing about his broken relationship with his ex. These shots are followed by in between shots of flashbacks portraying the couple dancing in a house which looks much more like a café. Sohail Haider can be seen throughout the video vocalizing the lyrics.
Watch the video below:

Sohail Haider – Main Hosh Mein Tha Full Song HD by Pakaistani
Credits:
Artist: Sohail Haider
Song: Main Hosh Mey Tha
Starring: Feroz Khan and Sadaf Kanwal
Music: Aqeel Ahmed
Styling: Tabish Khoja @ Nabila
DP: Shehroz Khan
Post/Directed by: Rao Ayaz Shahzad