Kolson Potato Sticks has made an advertising comeback with back-to-back TVC's under the campaign 'Ek Naughty Kick'. Almost three TVCs have been rolled out by the brand! But have they managed to create the right impact?
The campaign tends to sport a youthful tone and appears to have slapstick comedy. The ads focus less on the product and more on creating the "fun" element! As a result, the TVCs are being avidly discussed on social media. And apparently, the commercials are not getting good reviews.
Watch all the Kolson Potatoe Sticks 'Ek Naughty Kick' TVC here!
SOCIAL MEDIA REACTIONS!
This guy thinks that PEMRA should take notice of their campaign!

And these critics believed the ad had cheap tactics! #Quitetrue


So he gave us all a really good idea to torture those we hate!

We must admit this guy has a point!

It even got discussed on the Khalid Ali Marketing Next Group!

But it was the Ad Mad Dude that won with his review!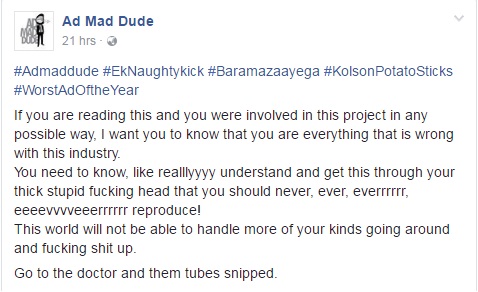 What do you think about the ad? Let us know in the comments below!
Stay tuned to Brandsynario for latest news and updates.