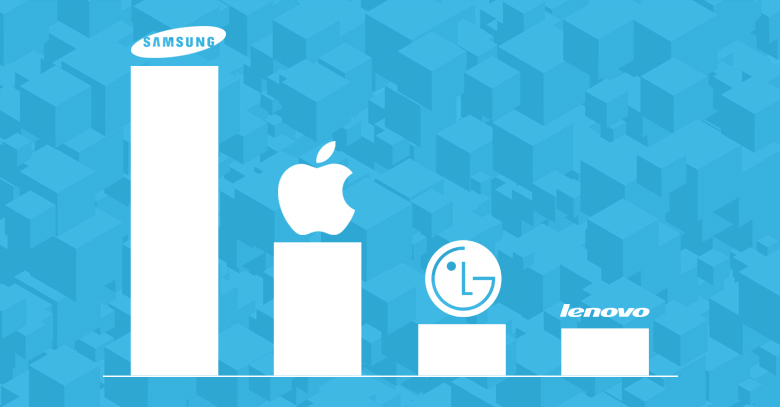 By Rozina Bhutto
Despite shipping 20 million more units per year, Samsung's market share in the smartphone category has slipped from 32.2 % to 30.4%and Apple's from 16.6% to 13.1 % as compared to their share in second quarter last year while LG and Lenovo's market share has increased considerably, according to new smartphone market share figures from International Data Corporation (IDC).
In terms of shipping of units, Samsung was the market leader by shipping 72.4 million units in this quarter as compared to Apple's 31.2 million units.
Both the brands, Samsung and Apple, had escalated shipments of smartphones but their market share decreased.
This proves that while consumers continue to buy their devices, there is still the untapped market which is being attracted by the competitors. Hence, resulting in increased sales but decreased market shares as other entrants capture their share.
LG and Lenovo are two such companies who have evidently snatched the market share from the two smartphone giants as their shares have increased compared to last year.
Although they are far behind in the race, with single-digit shares as compared to Samsung and Apple's double digit ones, but the fact remains that former are growing while latter are regressing.
LG's market share increased from 3.7% last year to 5.1% this year while Lenovo exhibited exponential growth, jumping from 3.1% to 4.7% in one years' time.
As far as the market share is concerned, Samsung still tops the list with 30.4% but faces the issue of decreasing share, Apple comes second with 13.1% and is in the same boat as its competitor while LG and Lenovo capture the third and fourth spot respectively.
The sudden growth of the two L's is because of their low-priced smartphones which caters to the heavily populated developing nations.
LG's affiliation with Google for their flagship device Google Nexus 4 also helped LG strengthen its position in the smartphone category.