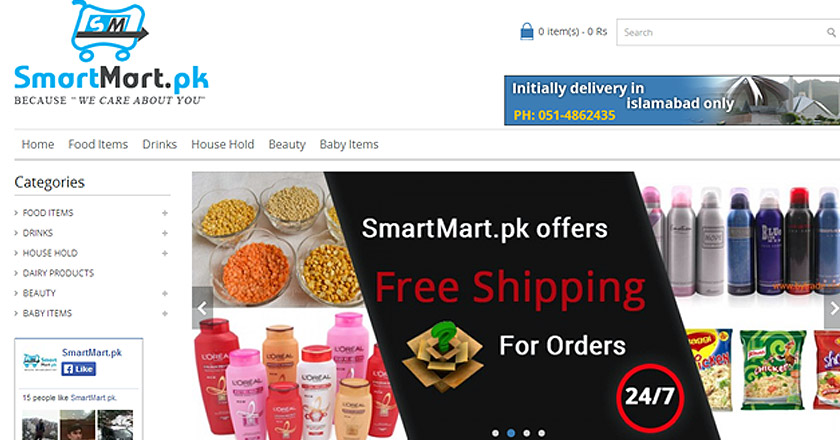 A nation who is still learning to deal with technology and e-commerce, Pakistanis have a long way to go; but when something as remarkable and time-saving as online grocery shopping comes up, it becomes an initiative worth mentioning. 
SmartMart.pk, an online shopping mart is offering the residents of Islamabad an option to buy their groceries online, which will then be delivered to their door steps. This will save time and a lot of hassle for the customers.
The website offers a wide variety of selection which includes food items, household items, beauty products and many more.
For all the orders equal to or above 5000 PKR the delivery is free, orders less than that are being charged additional delivery charges of 200 PKR.
The delivery time for each order placed is of 4 to 8 hours max. The orders placed after 6 pm will be considered by the website as the next day orders.
To ensure that an order has been placed by the person himself/herself, a customer service representative contacts for confirmation. Even after the confirmation, the order can be deleted if required through a simple call.
If in case the order is to be returned, a simple form can be filled which is available on the website and shortly the product will be picked up from the complainant's door step in exchange of which another would be offered.
Accoding to the website, SmartMart.pk serves the following mission,
"Our mission is to provide best services and to develop an everlasting as well as blossoming relationship with our clients. The next few years will bring with it more exciting opportunities for you to join us and make our services better. We are providing the services 24/7 for our customers." 
A simple online solution with ease of ordering, i.e. online grocery shopping is a life saver for many and considering the volatile law and order situation in Pakistan, it is definitely here to stay.