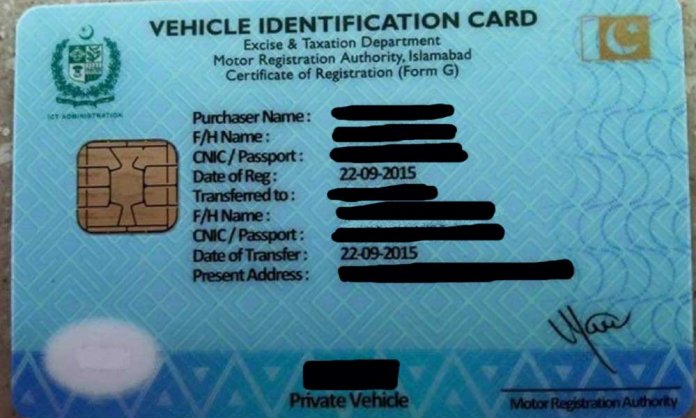 Just like how your National Identification Card or CNIC is your identity, vehicles also have their own smartcards- Vehicle Registration Card.
These cards will eventually eliminate the need to keep vehicle registrations books. These cards have launched in Punjab, moreover, the department will dispatch the smart cards at the applicant's address.
The machine is able to generate 22,000 cards on a daily basis whereas the present system can issue only 8000 registration books per day. The new system will improve efficiency and will also speed up the process.
Vehicle Registration Card is developed in collaboration with the National Database and Registration Authority (NADRA) and the Excise and Taxation Department.
After performing the data entry at ETO office, NADRA executes verification and validation checks on the provided data from ETO. The chip-based card is then printed by NADRA when the data has been verified and validated.
Volkswagen Seals Deal to Officially Manufacturer Vehicles in Pakistan!
Also, the vehicle smart cards will be easier to carry compared to the vehicle books which is often an inconvenience for many drivers. The vehicle cards will be the same size as the identity cards.
Reportedly, all procedures required for the implementation of this technology have been executed- the Government of Punjab is not binding individuals to replace their books with these cards.
As far as the Vehicle cards are concerned, they will bear the owner's name, NIC number, date of registration, vehicle type, previous registration (if any), chassis number, engine number, and the number of cylinders.
The card will also display other vital information including the following:
engine number
token tax expiry date
type of body
vehicle's color
class of vehicle
manufacturer's name
unladen weight
Reg. Laden weight
front axle
tire size
rear axle
other axles
seating capacity
year of manufacturing
an assessed annual tax
horsepower/CC
This new system promoted by the Government of Punjab will discourage forged documents, fabrication of information, and will make it a seamless process.
How to Get your Vehicle Registration Card
Excise and Taxation Department is issuing Vehicle Identification Cards for new vehicles at a cost of PKR 1450. If the card gets damaged it can be re-issued to the owner without mentioning duplicate on the card.
Requirements for Vehicle Registration Card
The following document(s) is/are required for registering for a vehicle smart card.
Documents of the vehicle
Original CNIC
Registration book
Stay tuned to Brandsynario for more news and updates.