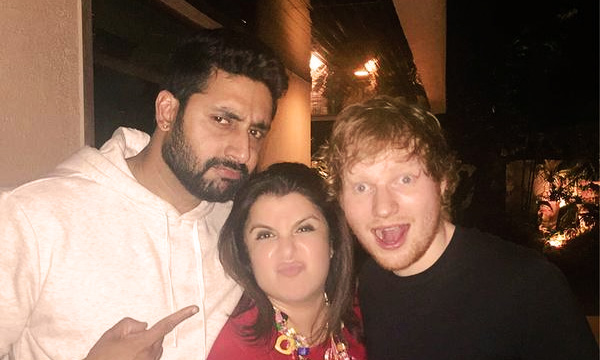 Most commonly known as the ginger singer, Ed Sheeran will soon be seen in Farah Khan's upcoming film Happy New Year 2. By agreeing to work for this movie, the singer has now paved his way into the Indian film industry.
According to the reports, the chart-topping star attended a party at the home of Abhishek Bachchan following his recent gig in Mumbai on Sunday.
Aaj ka photos—yeh lo!! My old friend @juniorbachchan n my new 1 ED Sheeran.. Ek puppy toh Banti hain pic.twitter.com/8BWe587Gmk

— Farah Khan (@TheFarahKhan) March 3, 2015
The director of one of the highest grossing films, Happy New Year, invited Ed to the party. She said, "It was a surprise when my cousin Zubin called me from London to say that Ed Sheeran was going to be in town and wanted to meet up with me and my Bollywood friends."
Read More: Happy New Year 2 Already In The Making
Upon this invitation, Farah Khan expressed her gratitude and said, "It was very gracious of Abhishek to let me bring Ed to his home. Not only did Ed hit it off with Abhishek, but before I left they both also decided that Ed would act in Happy New Year 2."
In the past, he has worked on plenty of soundtracks before. Including The Hobbit, this will be his acting debut.
We wish him all the luck in this new endeavor.