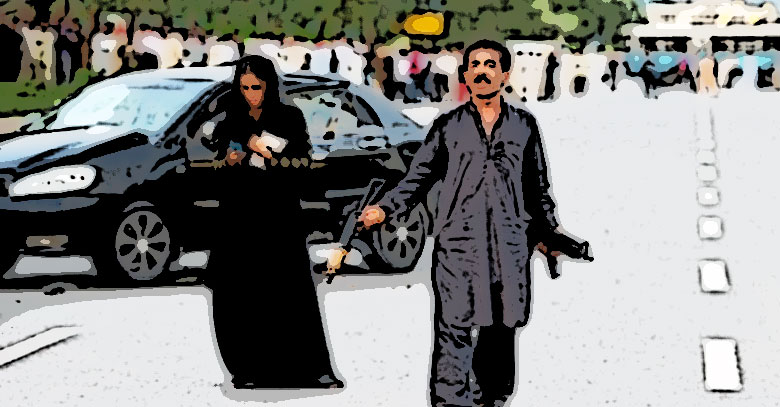 Even though they say Pakistan's film industry has not contributed much for the national repute and certainly does not compete on International standards but Pakistan never takes a back seat when it comes to giving you the ultimate entertainment.
Hollywood and Bollywood were again left speechless as our six hour long live 'Grand Theft Auto Islamabad' left people glued to their screens or smartphones – in case they were tweeting. Bollywood can only come up with a fictional story about cricketers being attacked or eloping during the middle of the series. We believe in doing it for real.
The Camera's rolled into action when a not-so-common man along with his wife and two children parked his car in the middle of the Convention Avenue in Islamabad on Thursday 15th August 2013. He swinged himself out of the car while holding two Kalashnikovs and started aerial firing. The whole nation sat agape, forcefully reliving 'Sultan Rahi moments'.
It didn't take long for the media and Police contingent to reach the spot and create a circus including everything from 'glittering' tent to a life-threatening live performance.
While Sikander readily put on the shoes of a villain, his wife played the supporting role with zeal as she facilitated conversation between her husband and SSP Operations Doctor Rizwan. The cops played their role to perfection looking helpless and forlorn while Sikander's children pranced around the car, adding some colour to the not-so-colourful scene. Both the protagonist and his wife were supporting quite dark colours.
But the real star of the show entered at the later stage of the 'live' show. No, I'm not talking about Zamurd Khan who merely pushed the 'villain' and helped capture him.  Definitely not. It was Red Bull that lived up to its reputation and 'gave wings' (although negatively) to Sikander.
Red Bull was like that 'hot' actress who does one item number in the whole movie but the promotional poster has her picture in the center.
This actually reminds me of the action flick Dabang 2 where all characters did justice to their role but everyone talked about that one item song featuring Kareena Kapoor once they exited the Cinema Hall. Similarly nobody was able to ignore Red Bull that did an exciting cameo in the 'reality show'.
In fact, Red Bull actually topped the Twitter trends that day in Pakistan along with Zamurd Khan (Hero) and Sikander (Villain) 'following' close behind.
The responsibility of climax came upon the Pakistan Peoples Party (PPP) member Zamurd Khan as he jumped on Sikander to disarm him and after a hasty battle and lots of gun shots, the villain was finally captured.
The media got a fresh issue to discuss, Sikander and Zamrud Khan got their share of personality and Red Bull kept on trending in Pakistan; even the following day it was in the top three trend leaving Zamurd Khan and Sikander far below at bottom two positions.
But what did the public gain? A head ache from doing live commentary on Twitter and an uncertainty that someday another person might stand up on Lahore's D chowk or Karachi's Schon circle and fire manically. The terrorists are now sure that the media will give them uninterrupted show time and brands will do their best to target them.
I wonder how other beverage brands would have taken this and would this make them evaluate their branding strategies? They must have been seriously disappointed for not being Sikander's choice of beverage.
Terrorism is certainly in fashion and can garner lots of eye balls. Why spend millions on Fawad Khan who'll only manage to get three hours of airtime while terrorists get five hours of non-stop airtime and that too for free.
So let's directly target terrorists instead (they are free too) as they do buy refreshments before starting their mission. In a country like Pakistan, this is the only way to gather eyeballs and that too at minimum cost (if you exclude all the terror and lives lost).